A Path from Civics to Jabil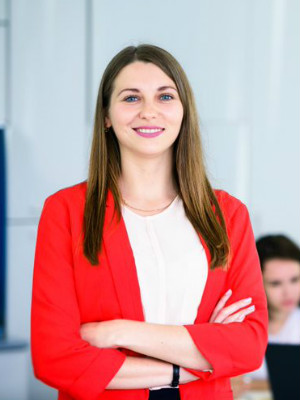 Olga Hatner graduated from college with dual degrees in Romano-Germanic philology and government studies, which aligned with her passion for civics, organizational cultures and having a positive influence on others. After working for a few months in a local government position in Uzhgorod, Ukraine, Olga realized her true interests lie in working for global organizations – not necessarily government organizations – that positively impact many people. That led her to Jabil in 2016.
As a training specialist at Jabil Uzhgorod, Olga enjoys the ability to be part of an international organization while also having a direct impact on individuals at the site. Through her position, she researches and provides the necessary resources for employees to grow professionally. "My goal is to help build successful teams to ensure stable manufacturing and supply chain processes," Olga said.
Harnessing her original interest in civic work, Olga is always searching for ways to empower and educate employees at Jabil Uzhgorod. She uses her education and previous experience in local government to actively participate with the Labor Council, a group of employees who volunteer their time to review and improve the work environment for their colleagues. "The first step is to get the word out that the Labor Council is here for the employees, and I've taken that task on myself," Olga said, exemplifying her ambitious attitude. "I see how important it is to connect employees to each other and to proper resources."
Olga combined her childhood dream of working in the government with her interest in impacting people in a unique way. "Growing up, I didn't plan to work for an electronics manufacturing company, but now, I see how perfect this career is for me," she shared. "I get to help people, which is all I ever wanted to do with my career."