Huangpu's South China Regional Power Forum: Balance, Confidence, Development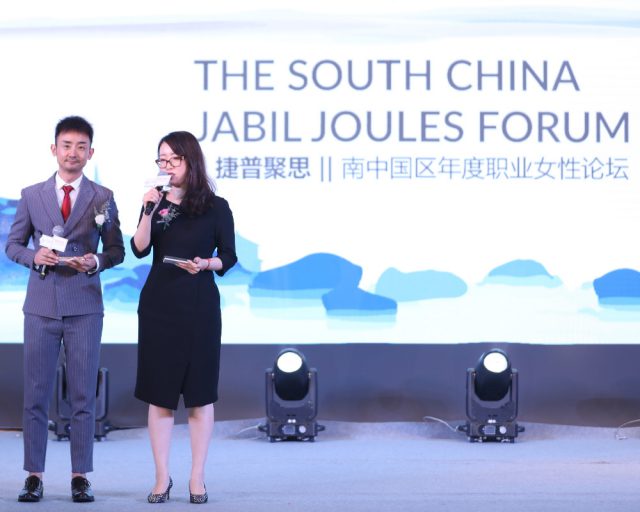 Along with showcasing the diverse employees at Jabil, the Joules Regional Power Forums were also created to bring together different divisions and functions within the company, which was best seen at Jabil Huangpu's South China event at the end of March. Employees and executive leadership from our Engineered Solutions Group, Green Point and Nypro facilities came together for the largest Joules Power Forum to date. More than 500 attendees continued the tradition of these regional events by learning from both internal and external leadership about multiple professional development topics. The event focused on three key messages: balance, confidence and development.
Beth Walters, senior vice president and founder of Jabil Joules, kicked off the event by talking about her diverse, entrepreneurial career path and demonstrating that everyone at Jabil has the potential to follow their interests: "Be the CEO of your own career. Own your success," she shared, which spoke clearly to one of the event's themes – confidence. "The key for success at Jabil is to understand the big picture, know how your role fits into the company's mission and be confident in yourself."
The other important theme of the event was around balance, specifically how work-life balance plays a role in the success of one's career. Helen Hu, external speaker and Ernst & Young senior manager of tax and business advisory services, said that balance isn't in terms of symmetry or quantity but about quality. She shared how balance is dynamic, in a continuous state of change, but to overcome major shifts, a positive attitude is crucial. "You have the final say with your work-life balance," Helen said.
While certain technical skills do help propel someone's career toward success, there are other internal factors, including goals and state of mind, and as Twinkle Pang, senior plant controller and panelist, said, "It's all about your attitude – be resilient. You can't do everything at all times, but you can stay positive and continue on your path to success."
Attitude is important for growth and career development, which was the final theme of the event. Bella Qiu, senior operations manager, agreed with Twinkle, saying, "A skill for success? There is not just one skill that is most important but staying positive and focused. What is important is knowing what your goal is and working to make yourself better to achieve it." She reassured the attendees who may have felt daunted by the idea of success, "I'm still on my way to success – I wouldn't say I'm successful yet, but I am satisfied with what I've done so far."
There's always the chance to grow and redefine the level of success an employee may want to achieve, balancing their job and family life, having a new career path or by some other standard. Panelists, like Ying Guo, told the attendees it's important to focus on what direction you're going. Ying, director of business management, followed up with the three questions she asks herself while trying to develop her career: where am I now, where am I going and how will I get there? To help answer those questions, she sets realistic plans, learns new skills and builds a strong team of support around her. Everyone, no matter what level or what phase of their career they're at, can follow this mentality and use it to grow.
Whether it's regarding work-life balance, having confidence in what you've achieved so far or developing yourself for success, it's important to keep a positive attitude and be aware of the support system you have with family, friends, colleagues and leaders; and then, anything is possible at Jabil.
As Mike Loparco, executive vice president and chief executive officer of Jabil's Engineered Solutions Group, mentioned to participants, "I came from a different career path – I had done legal work for Jabil for a number of years as part of outside counsel. And I eventually came to fall in love with this entrepreneurial company which had a culture and group of people who embodied a spirit of diversity, inclusion and tolerance and was truly results-oriented. But I never felt like an outsider here, even when I didn't have the manufacturing, engineering or technical background which many of my peers did. My opinion was valued if I could bring a different perspective and positively affect a business outcome."
Everyone should feel included, as well as empowered to succeed and showcase their diversity confidently. The Joules' Regional Power Forums will continue to inspire this attitude through future events, including this summer's events in Uzhgorod, Ukraine, and Auburn Hills, Michigan. Stayed tuned to read about those events on the blog!