Celebrating International Day of Persons with Disabilities
International Day of Persons with Disabilities: December 3

Throughout the year, our sites do amazing work to promote inclusion for people with disabilities. We want to honor the work being done globally today, December 3rd, in honor of International Day of People with Disabilities.
Open Mind, Open Heart to Disability Inclusion 
Jabil Switzerland started to raise awareness on the topic of people with disabilities last year through a partnership with Special Olympics Switzerland during the COVID pandemic. They organized a fundraiser involving all employees throughout the country's seven sites from December 2020 to January 2021 for the Special Olympics Challenge – Back to Sport, a virtual sports competition encouraging their athletes to keep engaging in sports and exercise during the COVID lockdown. Jabil employees had the chance to financially support an environment where every single person is accepted and welcomed under the premise of sportsmanship and athleticism. Including a Jabil donation, employees were able to contribute 26,130 CHF, roughly $28,000 USD.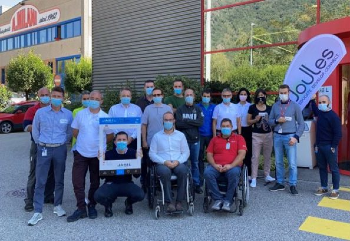 Specifically at the Mezzovico site, site HR Manager Nati Bononi organized a workshop creating awareness around people with paraplegia and tetraplegia. Nearly 100 employees learned what life is like for someone with paraplegia and tetraplegia, encouraging them to think of how others experience the world differently from their personal experiences. Alice Donato, administrative assistant at Jabil Mezzovico, shared, "The workshop opened my heart to how not everyone sees, feels, or navigates the world like I do."
Partnering with Others to Drive Success
Jabil sites in the Dominican Republic are paving the way for the future of disability inclusion in the company. They are working to increase employment and development opportunities for people with disabilities by raising awareness, creating an accessible workplace, and cultivating neurodiverse talent. The sites have made considerable progress toward these goals through their partnerships with organizations focused on disability inclusion.
Their partnership with CONADIS, the National Council of People with Disabilities, has allowed the sites to provide education, update their facilities, and provide a welcoming environment to employees with disabilities. They have also partnered with Dominican Access, an organization that assesses the facilities and their readiness to accept people with disabilities and neurodiversities. They are also working on a local level with organizations such as La Red and the Dominican Association of Rehabilitation. They have plans in place to teach employees sign language, refurbish their restrooms to be more accessible and create opportunities for people with neurodiversities.
Feedback for Progress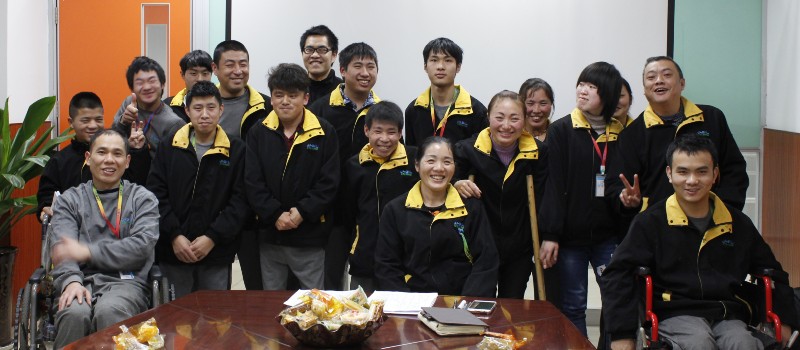 The persons with disabilities tea talk at Chengdu highlighted problems that employees had with safety, security, accessibilities, and inclusion throughout the site, which site management worked to quickly solve. Some problems included slippery walkways, inconvenience in accessing meals, accessibility issues in the dormitory, and issues passing security gates in wheelchairs.
Site management quickly addressed these changes through transportation during working hours, changing seats and adding staff to the canteens, moving people with disabilities to the first floor of dorms while personalizing bunk arrangements, and making wheelchair accessible security gates.
The site at Chengdu's commitment to listening to their employees and incorporating feedback through events like these shows Jabil's dedication to inclusivity for all.
Being An Ally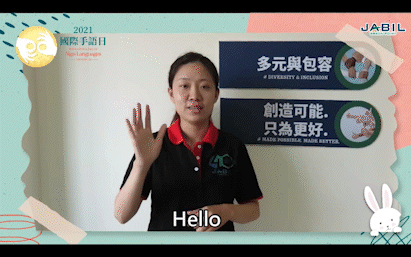 Jabil Taichung honored International Sign Language Day this year by encouraging and teaching employees to learn Sign Language. This year's theme, "We Sign for Human Rights," highlighted how we can work together to raise awareness of the importance of supporting all people who use sign languages and being allies to people with hearing impairments.