Celebrating Manufacturing and Promoting a Diverse Future at Jabil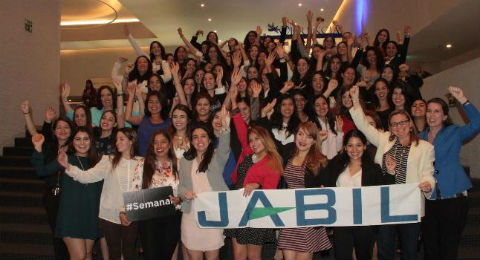 In 2015, seventeen Jabil sites across the world celebrated the world of manufacturing by hosting various Manufacturing Day events and attracting over 1000 guests to their facilities. This concept was coined by the Manufacturing Institute in order to, "Expand knowledge and improve public perception about manufacturing by giving manufacturers an opportunity to open their doors and windows and show, in a coordinated effort, what manufacturing really is," according to Jennifer McNelly, Executive Director of The Manufacturing Institute. Through such events "hundreds of thousands of students, parents, grandparents and teachers learned about the rewarding careers that manufacturing offers, and experienced first-hand about the high-tech innovations in 21st century manufacturing," McNelly added.
Here at Jabil the goal of the events were to celebrate modern manufacturing, showcase the new Jabil and inspire the next generation to pursue a career in manufacturing and at Jabil. "The on-site activities was fantastic in away to demonstrate with ingenuity, innovation and passion for manufacturing for Jabil sites within the communities in which we operate, within," according to Beth Walters, Jabil's Senior Vice President, Communications and Investor Relations and Marketing. Additionally, Manufacturing Day was an opportunity for Jabil to highlight the Jabil Joules program, promote women in manufacturing, and inspire future talent, both male and female, to consider a career in manufacturing as a woman.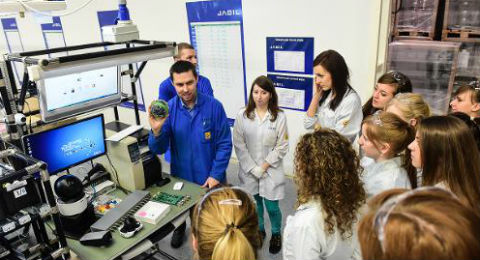 Why is promoting Jabil's capabilities and diversity programs so important? According to the 2015 Manufacturing Institute and Deloitte Skills Gap Study, 60 percent of open skilled production positions are unfilled due to a talent shortage even when manufacturers are willing to pay 80 percent more than market rates. Based on the McKinsey Global Institute and Global Operations Practice November 2012 report, the demands for manufacturing are globally occurring at an accelerated pace. In fact, the manufacturing output continues to grow by 2.7 percent in industrialized economies and 7.4 percent in large developing economies. Not only is there an employment shortage that can be addressed by focusing on attracting diverse talent pool, but companies with diverse teams are more profitable due to a larger and varied talent pool, more innovative due to the differing viewpoints and ideas, as well as more competitive with better market insights due to access to a wider industry knowledge.
Many of Jabil's Celebrate Manufacturing events included tours with students or family members of Jabil employees. A few sites even invited press and media to their Manufacturing Days.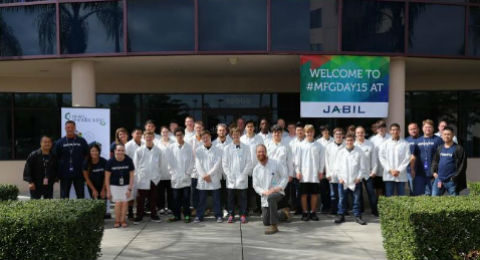 Throughout the Americas, Jabil's own corporate headquarters with other sites in the region held various Manufacturing Days. At Jabil's Corporate Headquarters in St. Petersburg, FL, they held a facility tour for high school students in the area along with a lunch and networking opportunities for the students. In San Jose, the site partnered with Kronos Inc. to take 126 guests on forty tours demonstrating Jabil's customer development activities at it's Great Oaks Facility and Blue Sky Center, Jabil's innovation solutions workshop. At Devens, the site held tours showcasing the new healthcare products factory- including "clean room" tour, 3D prototype printer, and First Robotics Team- for school children and college students in the area along with their parents and teachers; a total of 180 guests. Interestingly for Manufacturing Day, Guadalajara organized 3 conference events with women at local universities about career opportunities in manufacturing and Jabil with a total attendance of 200 people as well as hosting a visit day for 36 engineering students.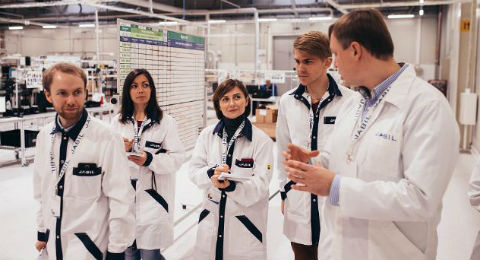 In Europe, eleven of Jabil sites hosted a Manufacturing Day with great success. At Livingston's event, the site held tours and activities for employees' families including a chocolate building activity for children. Many other sites, such as Tver, Waterford, and Nypro Germany, used Manufacturing Day to host students from local universities to educate them about the opportunities in manufacturing; more than 100 female students and 220 male students from engineering and technical programs across various regional schools and universities participated in Jabil's events.
Meanwhile in Asia, some of the company's largest sites hosted students and family members of the employees on tours of the sites. At Nypro Shanghai, 28 MBA students from the University of Florida together with their professor were taken on a plant tour along with introducing the students to the site management for a discussion on manufacturing. While at Tianjin Plastics, 30 students chosen from the local technical college as potential future hires were given a glimpse into the facility to showcase the manufacturing elements and the company culture. Similarly, Green Point Taichung created a tooling design center for local college students to practice as well as to demonstrate their manufacturing capabilities to future talent. Alternatively, Nypro Healthcare Shenzhen hosted a plant tour for its employees and children and showed them how an electronic toothbrush is made.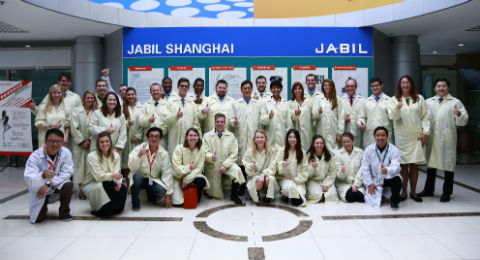 Overall, all of these events were successful with the sites receiving great feedback along with opportunities for drawing future, diverse talent into manufacturing. Jabil itself is also very proud of its employees and their Jabil Joules Champions for exemplifying the positivity, strength, and innovation in manufacturing and for inspiring the future generation to consider a career in manufacturing. As Beth Walters noted, "We have terrific Jabil Joules momentum built from 2015 and I'm eager to see how much we can accomplish in 2016."