Chihuahua Regional Power Forum: Successful Women in Action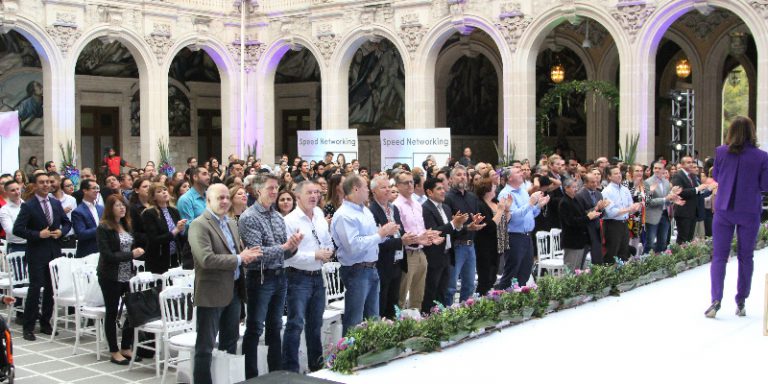 The goal of the Jabil Joules Regional Forums is to expand the thinking of our global workforce about the benefits and power of diverse teams. These development experiences help empower our employees and highlight Jabil's differentiated brand with customers, suppliers and potential employees. The forums provide our regional workforce the opportunity to connect, learn from one another and share insights on professional and personal development. Launched in 2018, we kicked off this year at Jabil Chihuahua on March 7th, in honor of International Women's Day.
More than 200 Joules from Chihuahua, including employees and local university students, as well as Jabil employees from sites in Baja, Guadalajara, Juarez and Torres spent the afternoon hearing from women and men in business and gaining insights into what leads to success at Jabil.
Topics ranged from personal to professional development for success in the business, which requires "a synergy and work needed by both men and women," said Lucía Legorreta, author, managing director of Legorreta Architectural Firm and the Forum's keynote speaker.
Lucía set the foundation of the event by presenting an overview of gender diversity in the workplace and the unique skillsets required for both men and women to succeed, regardless of the industry. Following her presentation, a panel of local and global Jabil leaders spoke to how those topics specifically apply to success at Jabil.
"You start creating opportunities for yourself as soon as you decide what you want to do."
Founder of Jabil Joules, Senior Vice President Beth Walters hosted a panel speaking about career development skills, diverse teams and overcoming challenges. Johana Mariscal discussed how she reminds her female team members that as employees, mentors, mothers and spouses, they already balance many responsibilities and have proven their innate ability to be flexible and adaptable, an important skill of successful people. Starting her career at Jabil as an operations executive administration assistant to her current position as plant controller in Chihuahua, Johana said that she tells herself and those around her: "You start creating opportunities for yourself as soon as you decide what you want to do."
Attendees also heard from April Butterfield, vice president of technology, on how Jabil allows employees to take risks to grow, but it's up to the individual to take that challenge and turn it into a success. According to April, this sense of resiliency is what makes someone successful in any business, male or female.
Along with personal development, it's also important for managers to develop their teams. "It's all about continuing to develop our teams because we – and other leaders – will retire someday, and we need to make sure we have given the next generation enough confidence and opportunities to succeed," said Patricia Siqueiros, senior supply chain development manager, who has over 18 years of experience at Jabil, including regional managerial roles. She stands by the idea that it's up to those employed in science, technology, engineering and mathematics (STEM) to teach not just younger employees but also students in the community about pursuing a career in these industries. April agreed, adding, "If we don't empower our teams, we can't grow. And in the end, that drives out diversity instead of welcomes it."
Another important aspect of success and a crucial element of the Jabil culture is teamwork and collaboration, to which Johana mentioned how building a diverse team brings so much value to the business. "On my team, I have someone who thinks analytically, another person who thinks technically, someone who thinks like a leader, and another who is more social and interactive. Everyone gives us something different and working together gives us success," she said. Johana reiterated the importance of supporting employees to achieve their goals and bring the best outcome to Jabil.
Chad Morley, vice president of the automotive and transportation sector, extended that idea, saying how working at a global company requires different cultures and genders. "It's important to know everyone's skillset on your team because a variety of cultures, functions and knowledge is what brings us success as leaders, managers and employees," he said. Chad shared how those who excel at the company are usually those who have a drive for results and a strong work ethic and passion. "It's up to managers to understand the talent they have on their teams and cross-train to help develop Jabil's workforce," Chad asserted.
The Chihuahua Regional Power Forum helped start important conversations among employees from different backgrounds, functions and levels of expertise. Employees are energized (much like a Joule [joul or /jo͞ol/ = a unit of energy]) and ready to apply what they learned during the event to bring success not only to their own careers but to Jabil and industry as a whole.