Deborah's Pledge to End Childhood Hunger
How many times throughout the week do you ask yourself: What should I eat today?
Now imagine if it was: Can I eat today?
It's humbling to think how a few different words can change your entire approach to life: living a life of survival. Unfortunately, systemic economic inequalities lead underrepresented communities to experience hunger at a greater rate.
This year the theme of Black History Month is Black Health & Wellness, which aims to bring attention to the challenges underrepresented communities face in the United States with hunger and access to healthy food. It also aims to build awareness around how nutrition plays a significant role in one's overall health and mental wellbeing.
In 2020, 24 percent of Black individuals experienced food insecurity, more than three times the rate of white households according to data from Feeding America who estimates more than 38 million people in the United States face hunger each year, including 12 million children.
Thankfully caring and empathetic individuals and organizations across the United States are dedicated to intervening.
We're lucky to have one of those incredible individuals at Jabil.
Deborah Hill, a 17-year Jabil veteran at our headquarters in St. Petersburg, Florida, has found her purpose by dedicating her life to focusing on childhood hunger.
As a child, Deborah was raised in a single parent household, along with her five siblings. She remembers all too well the struggles and sacrifices her mother made to feed her family. She recalled a common theme at the dinner table where her mother would make sure everyone ate before herself. "Are you going to eat?" Deborah remembers asking her mother. "I'll be okay," her mother answered gently. Regardless of the challenge she may be facing, Deborah's mother always embraced those around her with love that would radiate through her eyes.
It was her mother's acts of kindness that inspired a life of service for Deborah. She decided to start the Bridge of Hope Kitchen (BOHK) to honor something her mother said that never left her:
"If you have a piece of bread, everyone should have a piece of bread"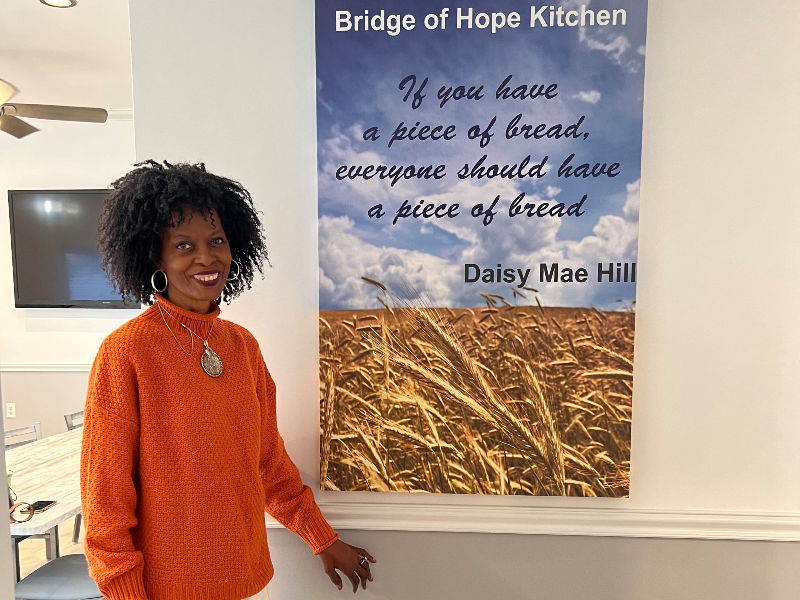 Deborah is creating pathways for families in the Pinellas County School District, particularly in South St. Petersburg, to have a place where they can receive a hot meal. "These children live in a world unfamiliar to most," said Deborah. "They face stereotypes, countless obstacles and a cloud of hopelessness hanging over them. These are only children, and we need to inspire them to a brighter outlook."
The effect of hunger on children also impacts behavioral issues and concentration in school, oftentimes leading to developmental delays and grade remediation.
Deborah is grateful for the commitment of her BOHK team, a group of individuals who are dedicated to this inspiring work being done within the community.
Deborah's great work in the community elevates Jabil's purpose driven workplace where caring for others radiates throughout the organization. The support Deborah's received from Jabil employees has empowered her to push forward and be a community leader and advocate for students in St. Petersburg. "Jabil truly cares and it speaks volumes that we're here to help the community, in the hard places that take work," said Deborah.
Jabil employees are looking forward to volunteering alongside Deborah to further her mission later this year. As we celebrate Black History Month, we are reminded of all the great Black individuals spearheading causes and social issues that affect us all in our communities.