Honoring Jabil Joules on International Women's Day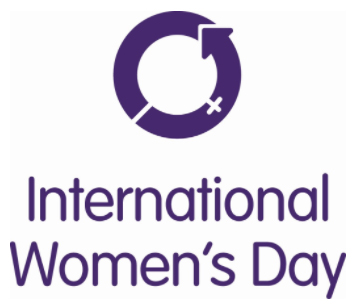 International Women's Day (IWD) is a global celebration that takes place every year on March 8th, to honor the social, economic, cultural and political achievements of women across the world. In an effort to highlight the need for bolder actions that drive gender equality, the 2017 theme for IWD is #BeBoldForChange. At Jabil, the talent and innovation of our female workforce is exemplary of women taking bold actions to improve and develop opportunities for themselves and their colleagues. According to a prediction by the World Economic Forum's 2016 Global Gender Gap Report, the gender gap won't close entirely until 2186. Instead of waiting for this to be achieved, International Women's Day drives momentum towards gender parity by providing opportunities for ground breaking actions that can truly drive greater change for women.
To celebrate the occasion, several Jabil sites are holding special events and activities that highlight our female employees and their everyday contributions. Celebrations In Shanghai, a Jabil Joules Power Hour, focused on effective communication in the workplace is being organized in alignment with IWD. Other sites in China, including Tianjin, Huangpu, Wuxi Metal and Green Point Taichung, will be participating in the Power Hour through organized viewing parties. Latin American sites like Guadalajara, Chihuahua and Nypro Baja will also honor IWD with movie screenings of Hidden Figures, a biographical drama based on the women behind the calculations and flight trajectories of NASA's first successful space launches.
In addition, Jabil Joules teams in Knittingen will hand out gifts to all female employees on IWD and in Tver, special donations will be given to a local charity focused on mothers. A group in St. Petersburg is also hosting a watch event for the webinar Lead Like a Girl: How Women Leaders Ignite Impact, featuring Tacy Byham, CEO of DDI, a global award-winning leadership consultancy that helps companies transform the way they select, develop and accelerate leaders. Byham will share her personal journey to explore what it means to lead like a girl and boost the confidence and potential of women leaders. Share Your Joules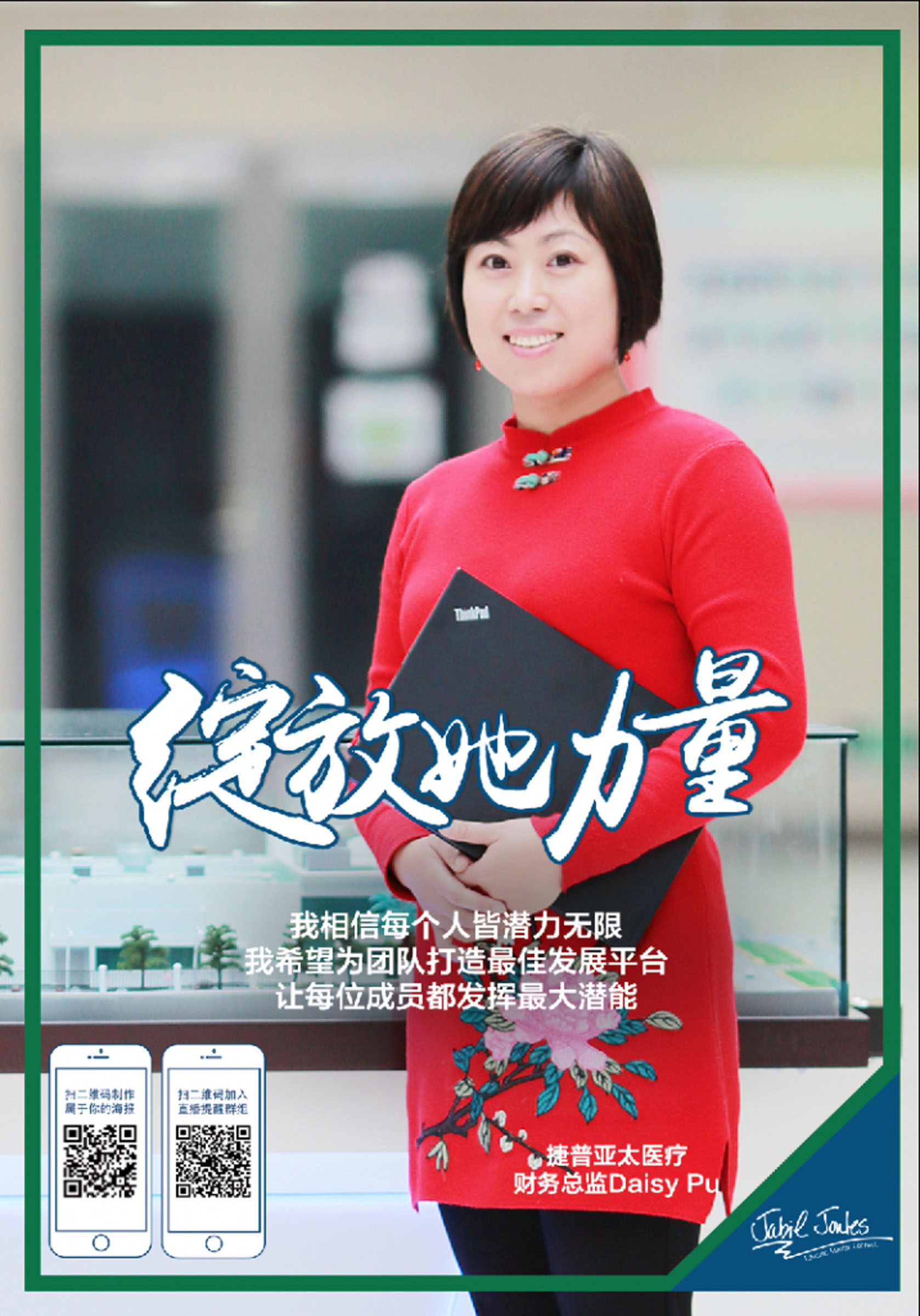 In an effort to continuously promote our female employees, the Share Your Joules campaign was developed in China to showcase female employees and their achievements. Jabil employees in China are able to utilize WeChat, a cross-platform instant messaging service, to create a personalized poster, using a pre-designed template where they can share an achievement over the past year. Similarly, Guadalajara has also championed the Share Your Joules initiative to showcase the accomplishments of female employees.
In the coming months, we plan on expanding this campaign to ensure all of our females at Jabil have an opportunity to get noticed, year-round. Please look for more on this soon. As a global organization, it's important to take the time to acknowledge and show appreciation to our female colleagues by letting them know that their everyday efforts don't go unnoticed. We encourage all of our sites to participate in activities that honor and celebrate our Jabil Joules around the world.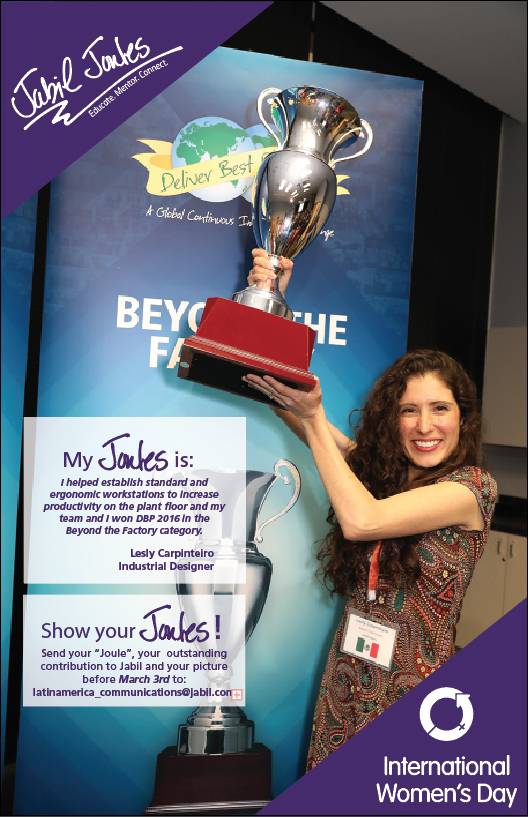 The International Women's Day website is a great place to start. Here you can find posters, event ideas, video resources and other materials that can help you support IWD, and champion the #BeBoldForChange theme at your site. We'd like to hear from you: How do you plan to celebrate International Women's Day? Big or small, all ideas are welcome. Send us photos of your activities and we'll promote them on Jabil's social media channels with the hashtag #BeBoldForChange.