Jabil Joules Europe: Bridging the Gender Gap and Encouraging Greater Diversity in European Manufacturing
Jabil Joules launched its European initiative in April of 2015 with the mission of educating, mentoring, networking, and promoting a dialogue of gender diversity. Now, more than 7 months later the program has seen implementation in multiple sites and creation of the Regional Jabil Joules Steering Committee along with numerous other successes in site-initiated programs, community projects, and programs of increasing diversity within the sites.
In 2010, the European Commission launched the Women's Charter to drive gender equality. The aim is to have equal pay, equal in decision-making, and equal economic independence by 2020. Despite a liberal European agenda for gender equality, only 17 percent of Jabil's European managers were female in April this year, less than the European average of 28 percent for female directors in the top FTSE 100 companies according to the EEF's Women in Manufacturing 2015 report. With the current European measures in place and the shortage of females in leadership positions, Jabil and other companies are recognizing there is a case for gender balance in leadership.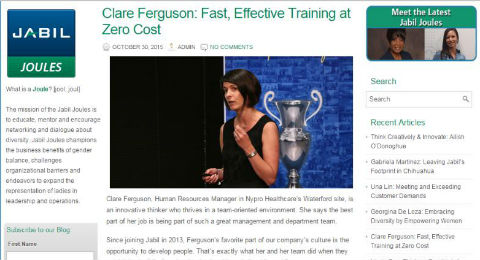 But why is having a diverse workforce important for Jabil and manufacturing? According to the 2015 Manufacturing Institute and Deloitte Skills Gap Study, 60 percent of open skilled production positions are unfilled due to a talent shortage even when manufacturers are willing to pay 80 percent more than market rates. Thus, we need a diverse workforce to fill in the work shortage. Not only is the employment shortage, but companies with diverse teams are more profitable due to a larger and varied talent pool, more innovative due to the differing viewpoints, ideas, and more competitive with better market insights due to access to a wider industry knowledge. "Our future success depends upon our ability to attract, retain and develop from diverse backgrounds, enabling us to target the best available talent pool, while at the same time being recognized as an employer of choice, regardless of gender, creed or nationality," Robin Forster, Regional HR Director, Europe. Therefore, we need a diverse workforce to fill needed positions and for Jabil to maintain and exceed its competitiveness.
To tackle these problems, Jabil Joules Europe launched a series of Educate, Mentor, and Connect guides to inspire sites to recruit women, encourage women to take the next step in their career, and create a Jabil Joules community. The Educate arm includes programs for training development, diversity blogs, and Manufacturing Day to promote manufacturing awareness and STEM education. The Mentor arm encompasses informal mentor programs, creation of development programs for women, and partnership with local schools and universities. As for Connect, it comprises initiatives such as webinars, leaders roadshows, and encouraging partnership with external organizations and networks. The goal is for each site to launch a Jabil Joules initiative and select a Jabil Joules champion to create a team to execute such initiatives.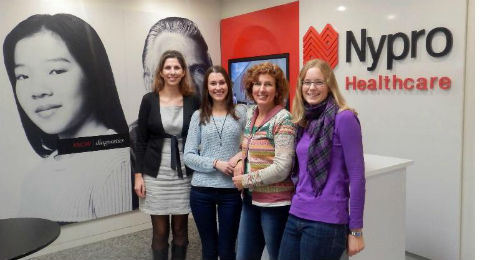 Since the launch in April 2015, Jabil Joules has received a positive response in many sites and seen numerous changes in support of diversity. Since April, there have been 17 new female managers across Jabil's European sites. Not only that, but 86 percent of European sites have chosen a Jabil Joules champion and declared various Jabil Joules initiatives. Fantastically, 11 sites have declared Celebrate Manufacturing Day plans with some involving the media to spread greater awareness of Jabil and manufacturing.
Site initiatives address various gender specific issues and the greater issues of diversity. For instance, Tver and Tiszaujvaros implemented payment programs for expectant mothers and for employees with newborns. Tiszaujvaros creatively installed pink lights in its main entrance and outside their facility in the month of October as a reminder of Breast Cancer Awareness along with open discussions about Breast Cancer. At Vienna, a group of employees for the new leadership program were identified, 25 percent of which were female. Additionally, Vienna and Nypro Germany participated in career fairs at local universities. Livingston held a two day workshop for Employment for Young Adults with Learning Disabilities. In Waterford, they implemented an INTRO programme supported by the Irish government to support the unemployed in the locality in finding work. These are just a handful of the numerous initiatives the sites in Europe have implemented.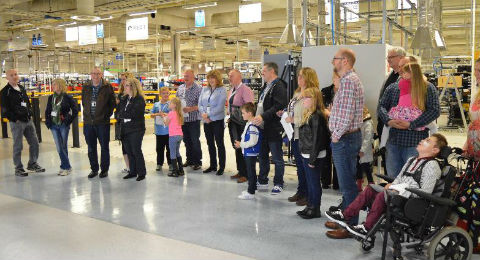 The Jabil Joules initiatives were also a part of several of the Manufacturing Day plans in Europe. Eight sites have hosted a Manufacturing Day with great success. At Livingston's Manufacturing Day, the site held tours and activities for employees' families including a chocolate building activity for children. Many other sites, such as Tver, Waterford, and Nypro Germany, used Manufacturing Day to host students from local universities to educate them about the opportunities in manufacturing; more than 72 female students and 130 male students from engineering and technical programs across various regional schools and universities participated in Jabil's events. However, this is only a small insight to the diverse Manufacturing Days held and in planning at Jabil Europe.
Jabil Joules Europe has started to bridge the employment gap and encourage greater diversity throughout Europe and has seen great success in the past 7 months. However, as Robin Forster says, "We still have work to do promote the programme at our sites, with our managers and employees, with our local communities and also with our customers."