Jabil Made Better by Employees with Disabilities
International Day of Persons with Disabilities
International Day of Persons with Disabilities (December 3) was established to promote the rights and well-being of individuals with disabilities while also increasing awareness of them in every aspect of life – socially, professionally, and personally. Around the world, companies and individuals are celebrating the skillset and diverse backgrounds talent with disabilities bring to their respective countries.
"We operate our business in 30-plus countries, employing people that don't look the same, don't talk the same, people that practice different religions, have different sexual orientations, people with physical limitations and neurodiversities. Diversity & Inclusion is top of mind as we employ folks all around the world," said Mark Mondello, CEO, during our last quarterly earnings call.
Jabil is promoting disability awareness through education, increasing employment by sharing best practices, updating workplace accommodations and creating a space where everyone can be their true selves.
Chengdu Makes Sure All Voices Are Heard
Over the past few years, Chengdu has done great work, hiring more and more individuals with disabilities to support a variety of manufacturing functions from sorting, packing, or assembling.
Chengdu has made significant accommodations to the facility, ensuring accessibility for employees with disabilities and their efforts has earned them recognition as an employer of choice for individuals with disabilities in the area.
The site has seen a steady growth in recruiting talent with disabilities with an ambitious target of adding 80+ employees by the end of 2020. They work closely with China's Disabled Persons' Federation to recommend and recruit employees to work at Jabil.
Chengdu has worked extremely hard to ensure all talent feels recognized and empowered. Its Site Disability Council has served as a place where employees can come together to connect and educate one another as the workplace grows more inclusive. In the image below, employees celebrated their successes and discussed areas for opportunity with management at a recent site event.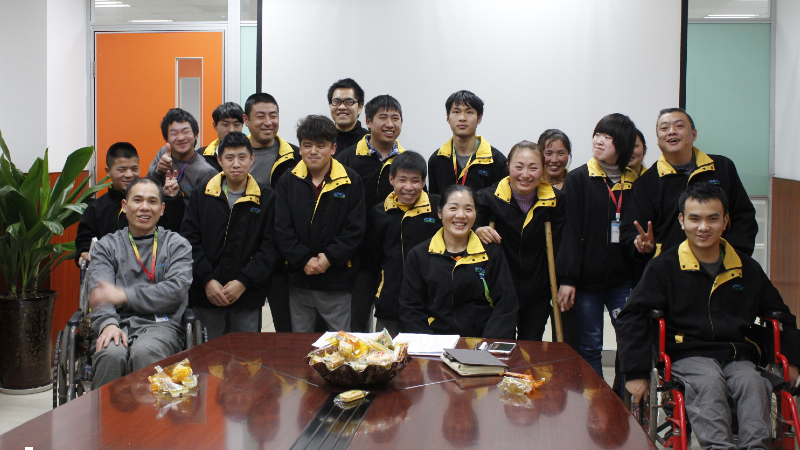 Guadalajara Creates Opportunities for All
Jabil Guadalajara is one of our fastest growing sites, and with that comes the need to attract talent in a competitive marketplace. They've found success in recruiting individuals with disabilities because of their strong workplace culture that continuously uplifts all employees.
Their inclusive culture evolved further in 2010 when a group of employees who were deaf had been identified to support a specific customer line at the site. It was an exclusive group of individuals whose common experiences helped them form a close bond and who prided themselves on working together to achieve great results.
Today, 76 deaf employees are working alongside other colleagues on more than a dozen customer lines. The employees credited the love and respect Jabil showed them as the top causes for their loyalty to Jabil. Word quickly spread about the experience at Jabil and when they spoke with others in the community who were deaf, they encouraged them to join the team.
Employees quickly rose above communications challenges to create a genuine, inclusive community, with many employees learning greetings and general phrases in sign language to demonstrate respect or gratitude.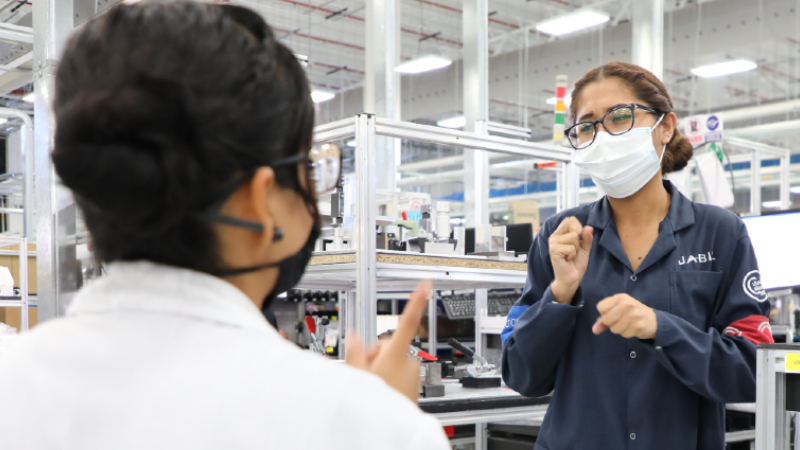 Dominican Republic Builds Plans for Better Tomorrow
Jabil Dominican Republic is positioning its future growth around attracting individuals who may have shied away from manufacturing careers in the past.
The site has been proactive in creating a detailed plan, working closely with CONADIS, a non-government organization to ensure their implementation aligned with best practices for recruiting talent with disabilities. One of the biggest adjustments the site is making beyond facility improvements is the way they recruit employees.
The HR and talent acquisitions teams are adjusting job descriptions to foster a more inclusive tone, letting people know that if they have a disability, they are welcome at Jabil. The site has also identified a number of positions that can be done from home.
"The COVID-19 pandemic has taught us a lot about what positions need to be physically in the office for our operations, but others can be completed by working from home. This is important because it eliminates a lot of obstacles individuals with disabilities face," said Grace Estepan, the site's HR manager.
The site also plans to implement a similar process at our Cayey site in Puerto Rico by sharing with others how we can raise up all communities.
The annual observance of the International Day of Disabled Persons was proclaimed in 1992 by United Nations General Assembly resolution 47/3. It aims to promote the rights and well-being of persons with disabilities in all spheres of society and development, and to increase awareness of the situation of persons with disabilities in every aspect of political, social, economic and cultural life.