Congratulations: Jabil's 2021 STEP Ahead Nominees & Honoree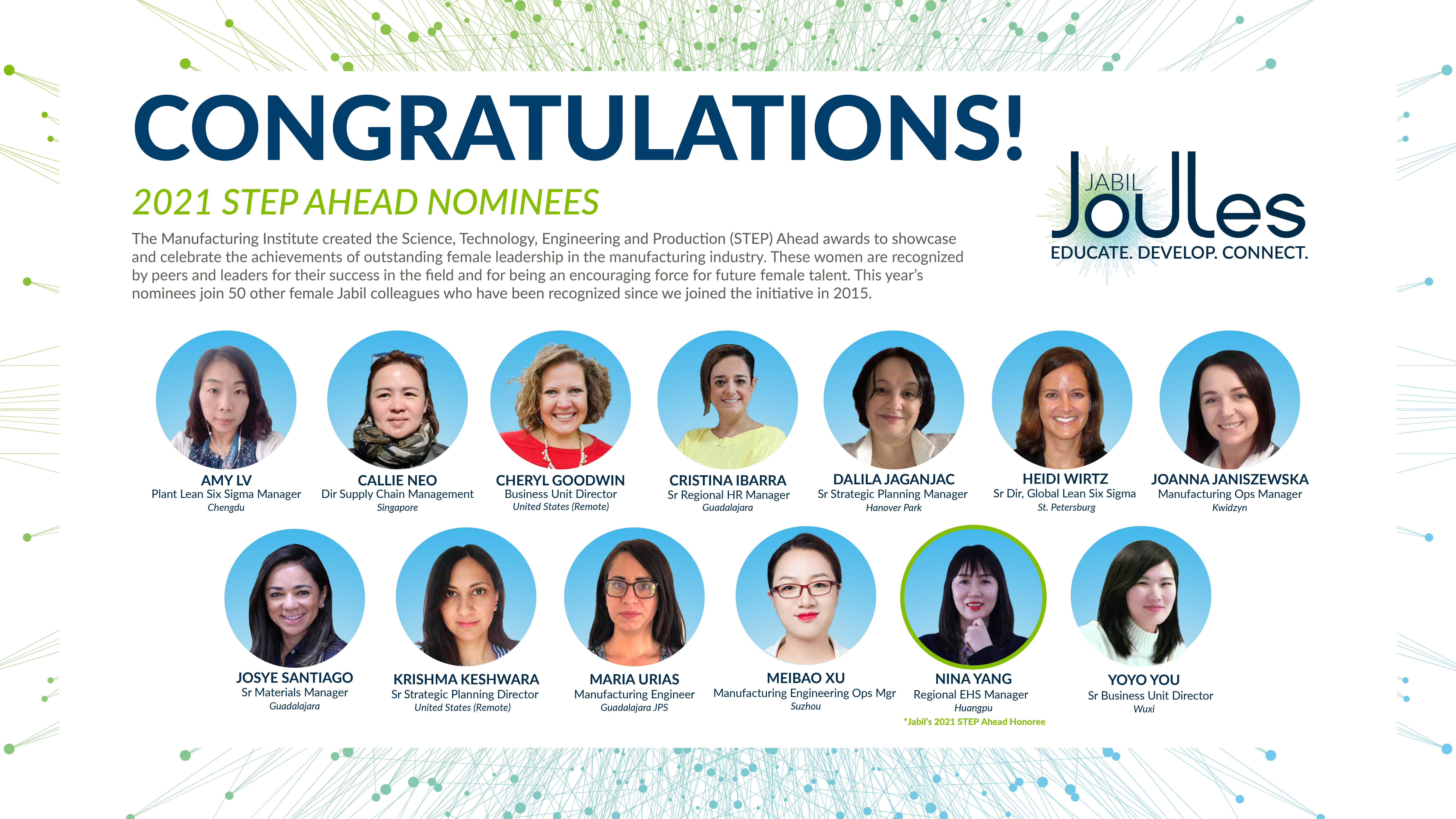 Jabil's 2021 STEP Ahead Announcement
Female leaders across our organization are driving success for our business, our customers and the communities in which we operate. We are proud to recognize some of these leaders who were nominated by Jabil leadership for the Manufacturing Institute's 2021 STEP Ahead Awards, including one employee who joined 100 other women from across the industry as an "2021 Honoree."
Jabil's 2021 STEP Ahead Award winner (also called an Honoree) is:
NINA YANG
Regional Environmental, Health & Safety Manager
Jabil Huangpu
Each year since 2015, Jabil has participated in the Awards, which recognize women leading innovation and progress in the areas of science, technology, engineering and production (STEP).
This year's diverse group of nominees have been recognized for their outstanding achievements in the manufacturing industry, especially during the overwhelming challenges of the last year, and for their dedication to helping others achieve success. These inspirational role models have challenged stereotypes throughout their careers and are paving the way for a more inclusive workforce.
Amy Lv, Plant Lean Six Sigma Manager
Often called "Teacher Amy," she is always happy to help answer questions and teach employees. After two years of hard work, the site's indirect laborers have all become bronzed certified and, with Amy's guidance, are all in the process to become silver certified. Amy rises to any challenge and does so with a positive spirit and level head.
Callie Neo, Supply Chain Management Director
During a massive transformation when one of our sectors established its own original design manufacturing (ODM) business division, Callie spearheaded the initiative, strategizing how supply chain could support the efforts. She also has a life-long passion for giving back and has been an active contributor to the Children's Cancer Foundation's "Hair for Hope" program, raising awareness and garnering support from external donors.
Cheryl Goodwin, Business Unit Director
In the last year, Cheryl has doubled her team's efforts, as customers are racing to make COVID-19 test kits, and helped her teams find solutions to both commercial and operational challenges. She embodies Jabil's culture of agility in ways never tested before and does so with strong leadership skills and an inspiring attitude. Cheryl also mentors young women in the university course she teaches outside of work, guiding them to find a career they're passionate about and one of which they're proud.
Cristina Ibarra, Senior Regional Human Resources Manager
Cristina and her team have successfully implemented several initiatives to reduce attrition and develop talent, increase productivity, improve organizational design, and support work-from-home initiatives due to the ever-changing world of the pandemic. Her relentless attitude to help others and ensure employee wellbeing is a top priority for all is commendable.
Dalila Jaganjac, Senior Strategic Planning Manager
In only four short years at Jabil, Dalila has accomplished many great things as part of the Hanover Park, Illinois team and was promoted to a divisional leading role in 2019. Her leadership and expertise helped her in rebuilding an entire supply chain organization at one of our sites to not only satisfy but surpass customer expectations. She's a believer that everyone owns their careers but mentoring is a powerful resource, and having benefited from mentors in her lifetime, Dalia is dedicated to helping others build a successful career.
Heidi Wirtz, Senior Global Lean Six Sigma Director
Having been at Jabil less than two years, Heidi has made a tremendous impact in a short period of time. She leads the Enterprise Lean Six Sigma programs and has successfully established collaboration among all our business segments, bridging relationships and driving success across many levels of the organization. Heidi is a servant leader through and through, recognized as a natural role model.
Joanna Janiszewska, Manufacturing Operations Manager
Starting out her career at just 19 years old, Joanna's progression within Jabil came while juggling earning her bachelor's degree in logistics and later a master's, while also being a mother of two children and a wife. The relentless drive of Joanna to learn new competencies pushed her to move to another functional area in 2015, serving as the Manufacturing Operations Manager, the first women in Jabil Kwidzyn history to hold that title.
Josye Santiago, Senior Materials Manager
Josye's leadership, innovative solutions, dedication for talent development and commitment to the community have made her known within the Latin America regional operations, as well as with our corporate teams. She's been nominated on her merit and because of the impact that she's made at Jabil Guadalajara and Brazil, two major operations for Jabil. She's also proving gender stereotypes wrong in a 'macho culture' by demonstrating how a woman's career is as important as a man's and is inspiring many young minds along the way to take control of their own careers and success.
Krishma Keshwara, Senior Strategic Planning Director
Using her experience and strong interpersonal skills, Krishma and her team created the structure, processes and methods to transition 12 newly acquired sites across 3 countries into the Jabil family. She has a unique skillset in being able to work with people and creating strong interpersonal relationships while being data driven. When she's not at work, you can find her volunteering with an organization called One More Child, which offers support services to mothers in the community to have affordable housing and childcare services.
Maria Urias, Manufacturing Engineer
Maria has made impressive improvements at one of our Guadalajara sites for Jabil Packaging Solutions, showing how her strong engineering skills and her inspirational leadership style are a recipe for success. Maria inspires the young talent on her teams through networking, strengthening relationships and advocating collaboration.
Meibao Xu, Manufacturing Engineering Operations Manager
Meibao has worked in Jabil Green Point's Tooling site in Suzhou for about 20 years and is a model of efficiency, team management and integrity. She and her team often receive high praise from our customers. Meibao is also passionate about empowering others, specifically working to cultivate young talent by improving their public speaking skills and helping them gain confidence in themselves.
Nina Yang, Regional Environmental, Health & Safety Manager
Her efforts turned EHS into a trusted business partner, providing risk management solutions at our Huangpu, China site, which is responsible for the wellbeing of more than 15,000 employees. As a leader, Nina has spent a lot of her time developing talent at the site, which includes creating and implementing an EHS coaching program and a production EHS qualification program. Her efforts were successful with the successful training of 36 EHS coordinators on the lines as a clear example.
Yoyo You, Senior Business Unit Director
In the last 24 months, Yoyo drove functional transformation from the inside out and strategically spearheaded several key programs to improve the team's capability. Because of her strong operational foundation, Yoyo and her team went from managing one project to three with a key Jabil customer. She's also passionate about helping the future generations through her "learning by doing" philosophy.