Congratulations: Jabil's 2022 STEP Ahead Nominees & Honorees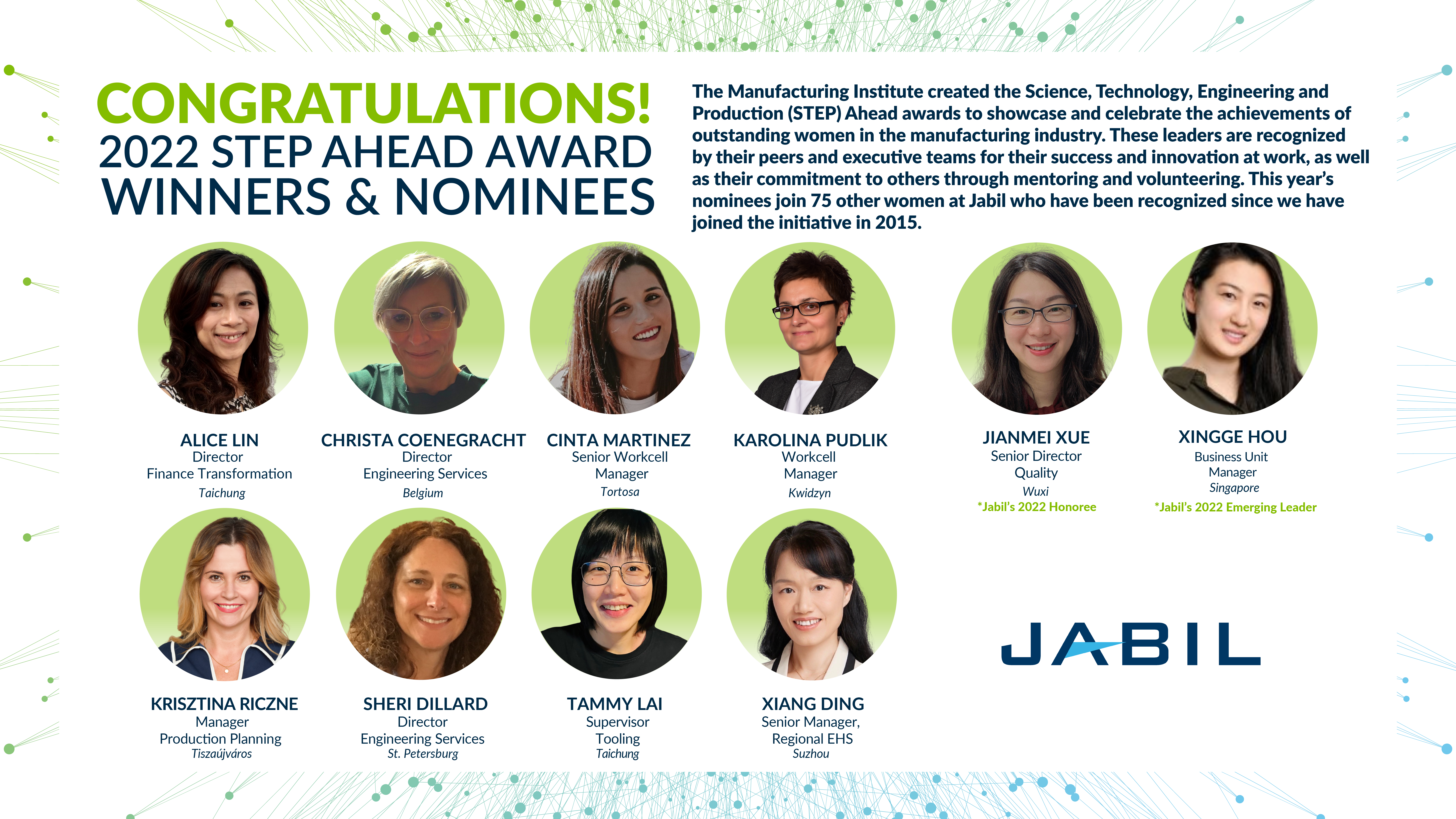 Jabil's 2022 STEP Ahead Announcement
For the eighth consecutive year, we are proud to recognize women at Jabil who have been nominated for the Manufacturing Institute's 2022 STEP Ahead Awards. These awards celebrate and honor women in science, technology, engineering and production (STEP).
By leading with ingenuity, this group of outstanding women has been recognized for going above and beyond to move Jabil forward, for bettering manufacturing and for their incredible achievements both in and outside of Jabil's walls. By improving our processes, catalyzing positive change in their communities and empowering those around them, these women are trailblazing the path of success for the next generation.
This year Jabil has two leaders who have been selected as Award winners, the most a single company can have, for their accomplishments: one Honoree and the other, an Emerging Leader – a young professional, new to their career journey.
Congratulations to Jabil's 2022 STEP Ahead Award Emerging Leader:
XINGGE HOU
Business Unit Manager
Jabil Singapore
XingGe has been recognized for leading the team on prototyping, increasing product orders twofold, innovating production to achieve better results and her overall major contributions to Jabil's global business. With a keen eye for innovation and strong business knowledge, XingGe, not yet 30-years-old, has created a name for herself within her three short years with Jabil. She has exemplified her ability to drive successful results and is consistently displaying strong servant leadership skills by prioritizing career development for her direct reports in addition to others outside of her team.
Congratulations to Jabil's 2022 STEP Ahead Honoree:
JIANMEI XUE
Senior Quality Director
Jabil Wuxi
JianMei has been recognized for leading the renewal of Jabil's Quality strategy, establishing best practices used company-wide and in essence, redefining the role of quality in the future of manufacturing. By leveraging data science, her expertise and leadership skills, she led a breakthrough that has never been attempted in the industry by transforming the traditional anodizing process into a digitized, smart process. Her dedication to inspiring others and their professional development, along with contributing to Jabil's culture of giving back is just as prominent as her commitment to Jabil's vision to be the most technologically advanced manufacturing solutions provider.
We'd like to congratulate all of our 2022 STEP Ahead nominees and celebrate women who are leading, inspiring and impacting change across Jabil:
Alice Lin: Director, Finance Transformation, Taichung
Krisztina Riczne: Manager, Production Planning, Tiszaújváros
Christa Coenegracht: Director, Engineering Services, Belgium
Sheri Dillard: Director, Engineering Services, St. Petersburg
Cinta Martinez: Senior Workcell Manager, Tortosa
Tammy Lai: Supervisor, Tooling, Taichung
Karolina Pudlik: Workcell Manager, Kwidzyn
Xiang Ding: Senior Manager, Regional EHS, Suzhou