Obsolescence and Relevance: Medical Device Design Challenges
Most babies born in 1900 did not live past the age of 50.
Thankfully, over the last 120 years, numerous discoveries and advances have been made in the fields of science and medicine. We have made great strides in vaccinations, sanitation, heart surgery and cardiac care, radiologic imaging and much more. Now, the average life expectancy for people living in North America and Europe is around 80 years.
These discoveries have led to vast improvements in the quality and length of life for millions of people across the world. But they also pose a challenge. With the advent of an aging population as well as greater access to healthcare for most people and escalating research and development costs for medical devices manufacturers, key healthcare payers across the globe (e.g. governments, insurance companies and employers) have seen healthcare costs soar to unsustainable levels.
The response from key healthcare payers was not only to start merging and forming partnerships in order to increase their economies of scale and efficiencies, but also to accelerate the shift away from a "fee-for-service" model to a "value-based" reimbursement model, which rewards the quality of care received by patients over the frequency of treatments. Other factors, such as remote monitoring and patient compliance tracking, are also contributing to the shift from volume- to value-based healthcare.
This new model has put healthcare providers under increasing pressure to devise new "total cost of ownership" models, which take into account both the total healthcare delivery costs as well as patient outcomes. For example, has a given product lowered the re-admission rate of patients into hospitals? If the answer is yes, then the providers stand a better chance of being quickly reimbursed by key payers in the market place as the treatment has been successful and more cost-effective.
"Value-based" or "fixed reimbursement" healthcare is profoundly impacting the supply chain for medical devices. Whereas "fee-for-service" healthcare encouraged sourcing decisions of hospitals to be made typically on initial product costs and availability with limited stakeholders (i.e. supply chain) being involved in the sourcing decision, "value-based" healthcare is looking at the economics of a product or a service beyond its initial price (i.e. a total solution solving a problem as opposed to a stand-alone product). This requires a full product value analysis.
To achieve that goal, stakeholders such as physicians (who understand the overall value of products), IT (who understands data generation and management to prove efficacy of treatment) and supply chain increasingly must work together to make the best sourcing decision that will both maximize patient time recovery and generate the highest reimbursement rate possible.
Subscribe to the Jabil Blog
Sign up for weekly updates on the latest trends, research and insight in tech, IoT and the supply chain.
Technology will play a significant part in demonstrating medical device efficacy. According to Jabil's Connected Health Technology Trends survey, 100 percent of those that have a healthcare device which could be connected will connect. With the rising popularity of healthcare wearables as well as innovations in areas such as miniaturization and e-textiles, the Internet of Things will enable sensors and devices to gather unprecedented amounts of medical-related data.
Healthcare manufacturers expect data to help in three ways: identifying and solving problems with devices and connectivity, understanding use models to guide product development and using data to drive general healthcare outcomes research. This data can also prove the delivery of superior patient outcomes, which will increasingly become a key sourcing decision factor for hospitals.
There is full agreement in the industry that connected healthcare lags other connected industries. Many healthcare products found in hospitals today use more than 20-year-old technology that does not meet today's key requirements for demonstrations efficacy of treatment through data evidence. Due to the time, investment, development risks, testing, validation and marketing of new medical devices, device manufacturers are struggling with a plethora of issues. But most importantly 56 percent believe that healthcare is driven by proven outcomes, not ideas, which take longer; another 51 percent find it complicated to get both doctors and patients to adopt a new device.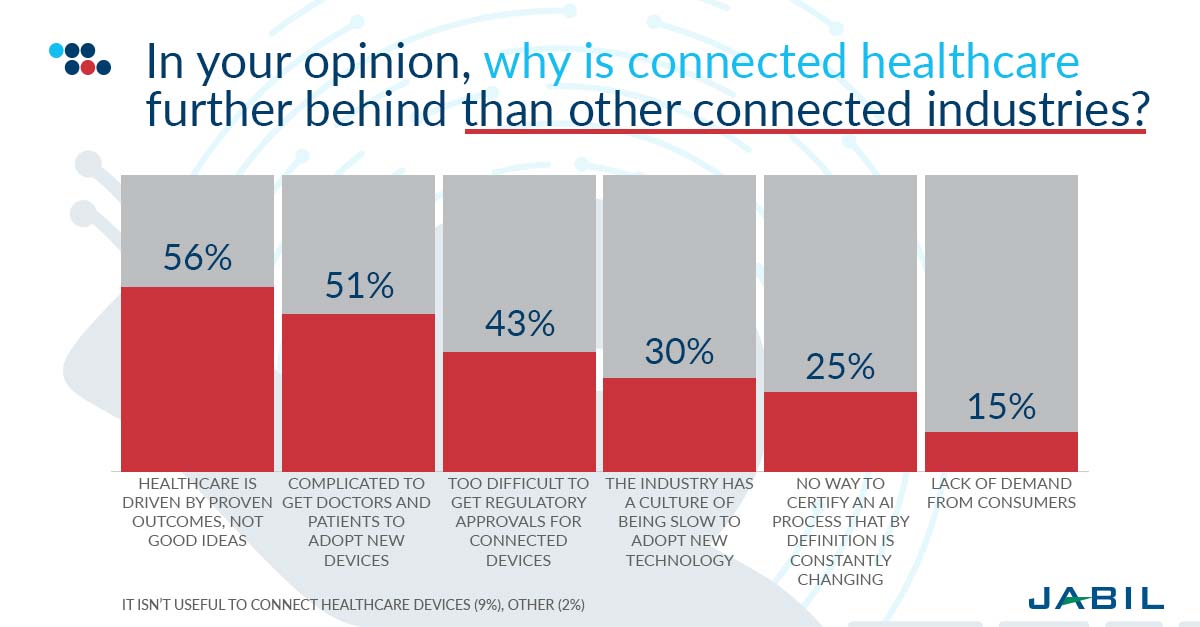 Therefore, medical device manufacturers are increasingly faced with decreased margins and the threat of commoditization of their products, which in turn make research and development investments for improved and new products dry up.
In short, the two key medical device design challenges faced by manufacturers today are:
The Risk of Obsolescence
The investment required to redesign a product can be substantial and time-consuming. However, with current passive shortages, components which may cost as little as a few pennies could lead to multi-million-dollar revenue shortfalls and potential loss of market share to competitors who have made the investment into developing their product portfolio. Considering one in five healthcare device manufacturers struggle with the component shortages, it's always worth future-proofing your operations.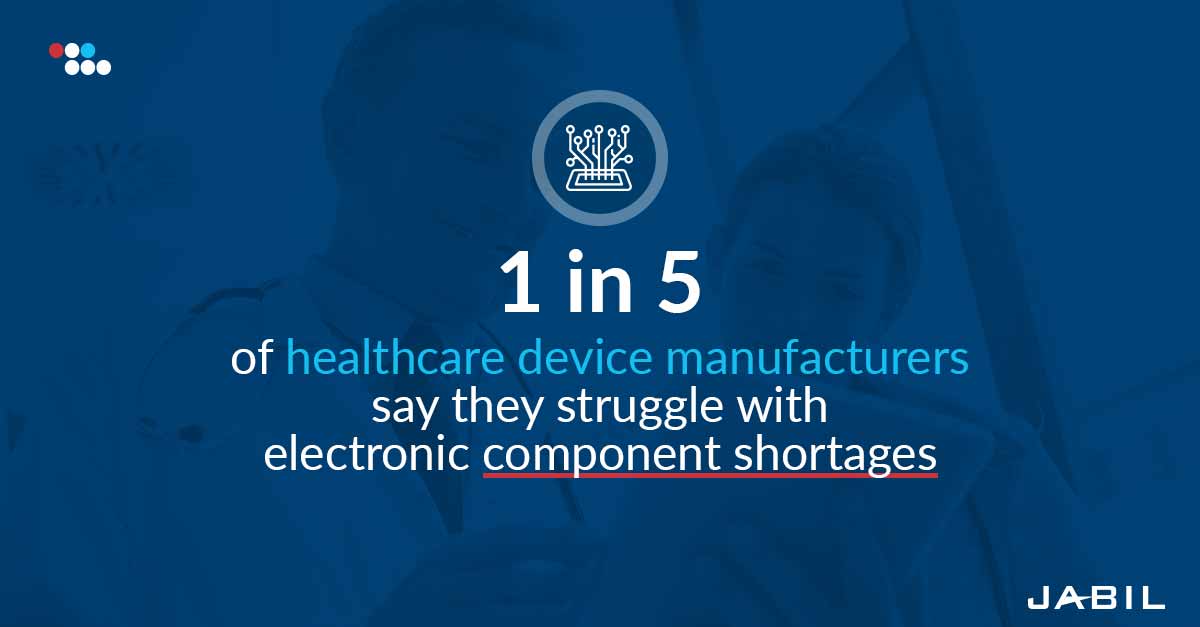 With new product development cycle of at least two years and product life cycles of 20 years or so, electronic components obsolescence is very real within the healthcare industry. Typically, consumer goods and automotive customers with short life cycles dictate the market and are leaders in new technology adoption – they also happen to produce in high volumes which is attractive to electronics manufacturers. Conversely, very long product life cycles and a constrained regulatory environment mean that the healthcare industry often lags in new technology adoption, relying more on legacy technology which is becoming less and less available in the market place.
The Need for Relevance
The end customers (hospitals and payers) are looking for medical devices that provide better patients outcomes and therefore lower overall costs over the treatment life cycle. This means that premium price medical devices could, in fact, be the preferred option for hospitals. Although more expensive to procure in the first place, if they can produce evidence of superior efficacy and therefore demonstrate lower total costs, it is likely that customers will favor them over older and cheaper products. This, in turn, provides medical device companies an opportunity to increase market share and margins which would provide the return on investment sought after for updating technology.
Typically, incremental product improvement is better and cheaper than repair and allows medical device manufacturers to outperform their peers in an increasingly competitive market place. However, behavior shift within the healthcare industry that leads to improved existing products as well as sustained innovation to suit the market requirements of cost-effectiveness and efficacy is more easily said than done. The regulatory risks and costs of validating improved features or totally new products may be a major barrier to change. To overcome this, focus on short-term financial performance needs to be balanced with long-term financial objectives of sustaining growth and increasing margins.
Modern discoveries and innovations mean opportunities and hope for countless people across the globe, but we also have to contend with the harsh practicalities of the surge of an aging population, more accessible to healthcare for most people and escalating research and development costs for medical devices manufacturers. The solution may not be easy, but their pay-off is huge: better and longer lives.
Download the Connected Health Tech Trends Survey Report
Insights from 211 connected health decision makers on the barriers, opportunities and the future of connected health.