Retail Automation: The Competitive Edge Stores Need
When the U.S. first announced stay-at-home orders in response to COVID-19, people rushed to their local grocery store to stock up on essentials. Toilet paper topped their lists. Within half an hour of official announcements, Americans purchased 192,000 rolls of toilet paper. By March 23, 2020, 70% of U.S. grocery retailers and online stores sold their entire stock of toilet paper.
The Great Toilet Paper Panic of 2020 is comical now, but it was a reality check for retailers around the country. Toilet paper companies such as Quilted Northern had to react to the demand fast by removing the middleman-distribution centers-so that trucks could transport toilet paper directly from the warehouse to the grocery stores. It makes you wonder . . . did our desperation for toilet paper influence a new era of retail automation solutions?
Retailers faced significant supply chain and inventory issues because of product shortages during COVID-19, however, inventory challenges existed way before the coronavirus. Out-of-stocks (OOS) result in an average of 4.1% annual revenue loss for grocers according to numerous industry studies as confirmed by Badger Technologies, and that's the average metric—no pandemic considered. A key contributor is that the average level of inventory accuracy for retailers is 65%. Clearly there's more work to be done.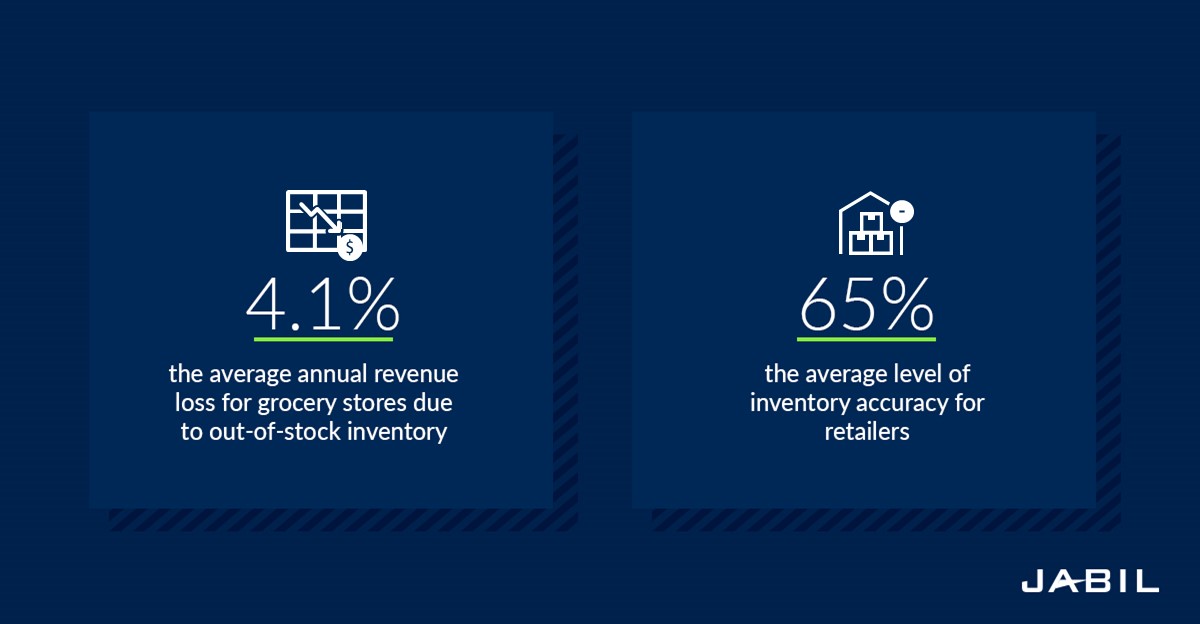 So, what did we learn from the toilet paper scramble? For a retailer, surviving the new normal and staying competitive requires two things: automation and agility.
Focus on Warehouse Automation First
Warehouse automation is the solution to many distribution challenges and can be addressed through physical automation or new processes. Both are crucial for cutting costs and maximizing productivity.
Physical automation is just as important as process automation. Consider autonomous robots; they encompass a wide range of mechanized solutions, including automated conveyor systems to assist in productivity and order fulfillment. Warehouses use autonomous machines like carousels, vertical lifts, automated storage and retrieval systems (AS/RS), mini-loads, pick assist robots and automated material-carrying vehicles. The warehouse is a madhouse, and if inventory is lost, miscounted or in excess, it can affect in-store inventory.
"There's never a day off in retail, which can be incredibly stressful," Chris Walton, a leading expert in omnichannel retailing and CEO of Omni Talk, said. "It's like moving your house every day-and no two days are the same. It's hard to keep on top of inventory, which is why robotics makes sense because the work can get done, and even reporting in the simplest form can produce actionable insights to inform better business decisions."
Warehouses must keep track of all transactions occurring in real-time. Incorporating process automation systems ensures accuracy and speed when solving technical problems.
Process automation systems ease the frustration of harnessing warehouse data. They can track, decipher and integrate data into existing warehouse software. Warehouse Management Systems (WMS) help site workers control and track the movement of materials with more functionality and operational flexibility than basic inventory control applications.
Timeliness is everything in the warehouse. WMS optimizes product picking, placing, replenishment and other processes so they operate more quickly and effectively than the average worker. This type of automated system can even validate inventory transactions as it flows through the warehouse.
Though inventory management begins in the warehouse, many data and process gaps are found in-store. Inventory accuracy at distribution centers, warehouses and plants are at the 90% range, while that number drops to the 65% once in retail stores. Automating elements of inventory management will help retail stores to stay competitive in the retail industry.
Automated Retail: A Necessity for Efficient In-store Operations
In Jabil's Future of Retail Technology survey of more than 300 retail decision-makers, 90% of participants responded that they expect to spend more on automation technology over the next two years, and rightly so. Download the full survey report.
of retail decision-makers expect to spend more on automation technology over the next two years.
Physical store automation technology can minimize inventory errors and save time. Autonomous robots, for instance, are the data-stewards. Detecting spills, emptying shelf pockets, checking expiration dates and UV-dinsinfecting are just a few of the tedious tasks they execute.
In as little as two hours, autonomous robots can conduct a store-wide shelf scan that would take employees an entire day to complete. The time saved with automated retail systems can be used to enhance the customer experience.
In addition to robots, Radio Frequency Identification (RFID) and other Internet of Things (IoT) solutions, such as networked cameras and specialty sensors, can take in-store efficiency up another notch. According to Auburn University's RFID Lab, when retailers make in-store stock available with RFID tags, inventory accuracy rises above 99%, whereas traditional store inventory is typically below 65% for various reasons, including product shrink.
Ensuring inventory accuracy is vital for efficient in-store retail operations. Retailers need to meet or exceed customer demands and decrease the chances of disappointment and lost sales due to OOS items. Calculating and expediting OOS data is important to understanding the wants and needs of customers.
Automation systems linked to broader data sources can identify holes on the shelves and communicate to employees which products should be prioritized. This quick process gives retailers the heads-up on what to order based on the consumer's needs. Inventory trends can be spotted well ahead of time and attended to with intelligent automation.
Automated retail will set physical stores apart, but it isn't a one-size-fits-all solution. Many factors need to be considered, such as demographics.
Subscribe to the Jabil Blog
Sign up for weekly updates on the latest trends, research and insight in tech, IoT and the supply chain.
Customer Demographics Drive the Technology
Automation technology certainly checks a lot of boxes for retailers. But how should stores get started, and who needs to be involved in the decision-making?
Many retail stores have teams that focus primarily on innovations and technologies as well as teams with in-store process and procedure expertise. Ultimately, to spearhead the implementation of complex technologies like a retail automation system, one group must focus on the front-end or customer experience and the other should handle the behind-the-scenes operational efficiency, such as inventory management, but the teams must be integrated.
Store demographics play a huge role in technology rollouts. Each customer will perceive retail technology solutions differently. Some will enjoy new and efficient processes, while others prefer a human-to-human shopping experience. Stores must consider their ideal shopper and their comfort level with the latest technology. There should be an experience for each type of shopper. After all, not every generation is primed for autonomous robots passing through store aisles with googly eyes.
Internal communication at the store-level increases transparency among store associates. There is so much data weaving in and out of various systems, and when you add a retail automation solution to the mix, inventory management and reporting can get a little overwhelming. When and if there are issues with an item, managers need to immediately receive this information so they can act quickly. Retailers should consider implementing specific dashboards and mobile apps that will help escalate data and information from employee to manager.
Automation in Retail is the Future... Inevitably
How should retailers prepare for the retail automation revolution? The popular opinion is that retail automation will cause people to lose jobs when instead, there will be significant job transformations. For example, 5G-enabled autonomous robots can automate inventory monitoring. This gives retail associates more time to focus on doing other tasks: helping customers, cleaning or adding checkout cashiers.
Retail automation not only improves the customer experience but sustains growth for businesses. For example, automating workflows across the retail landscape enables retailers to focus on optimizing processes for growth instead of building new ones.
Automated technologies can even protect a business from fraud, theft and suspicious people. Fraud is the top concern for retailers, according to the National Retail Federation. One study found that 70% of retailers have machine-learning analytics very high on the priority list for fraud mitigation investments.
With retail automation, companies can increase productivity, quality and profitability. A business is only as successful as its team. Retail automation can produce more opportunities for employees to think strategically, explore new ideas and build even more memorable customer experiences that will drive growth indefinitely.
Grasping the importance of data as the digital shift becomes a consumer behavior is vital for retailers. Precise data capture will help stores identify what their customers prefer in inventory. Stores risk losing customers if they do not implement seamless data retrieval systems. After all, if a retail store doesn't carry what a customer needs, they will shop somewhere else.