Jabil Chihuahua Brings Necessity to Indigenous Families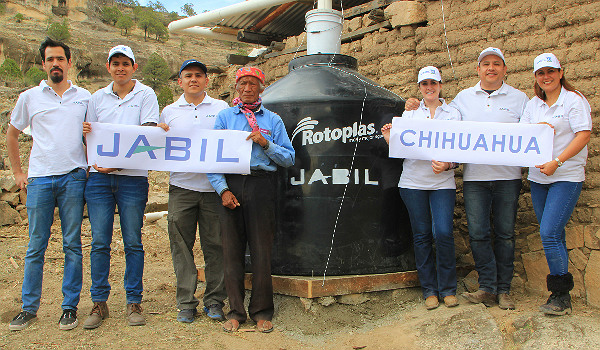 Expanding its outreach beyond city limits, Jabil Chihuahua is committed to Jabil Cares' focus area of Empowerment by supporting local families in the surrounding regions of Mexico. The site previously worked with CAPTAR, a nonprofit that creates awareness around and supports the well-being of indigenous people, by providing a local tribe with multiple rainwater collection systems late last year.
The Jabil site funded the water systems, so the Tarahumaras families, one of the oldest ethnicities in the region, could have clean water available at their homes. These rainwater collection systems brought a substantial amount of relief to the families, who are living in extreme poverty, so they no longer had to walk miles every day to get access to the necessity.
Driven by the impact they previously made, Jabil Chihuahua recently expanded this outreach service and had a handful of employees travel four hours to the community of Norogachi, to help more Tarahumaras families have access to clean water. Employees helped deliver and set up the rainwater collection systems for a family in the tribe.
Employees at Jabil Chihuahua also collected non-perishable food items to supply the Tarahumaras families for an upcoming religious festival they celebrate.
"One of our site's main objectives for community service this fiscal year is to expand our scope outside of the city of Chihuahua," said Victor Sigala, human resources communications coordinator. "The original partnership with CAPTAR gave us that opportunity and from it, we're able to continuously support families in great need."
Jabil Cares, our community outreach and volunteerism platform, supports localized efforts around specific causes related to Education, Empowerment, and the Environment.