Day of Service: Community Partnership Makes Big Impact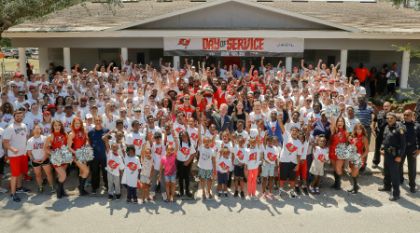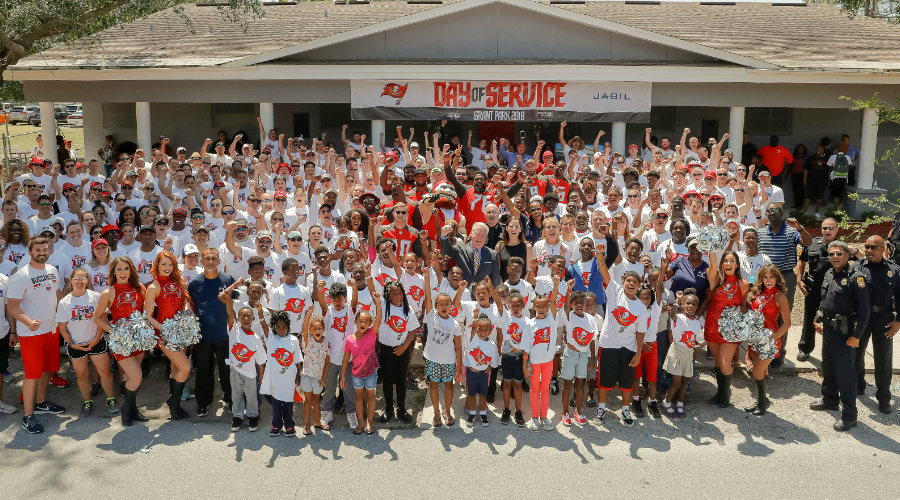 It wasn't long ago when Jabil St. Petersburg and Tampa Bay Buccaneers staff visited Grant Park Community Center in East Tampa to see how their newly formed community partnership could help restore the pride and dignity of a vital resource with its first Day of Service. As a valued resource in the community, the services provided by the Center are immeasurable for the growth and well-being of neighborhood.
"We wanted the computer lab to be our main focus area for the project," said Dawn Shields, Director, Communications at Jabil. "It made sense to use our IT expertise to provide this community with updated computer hardware and software, as well as, position their network equipment for future expansion."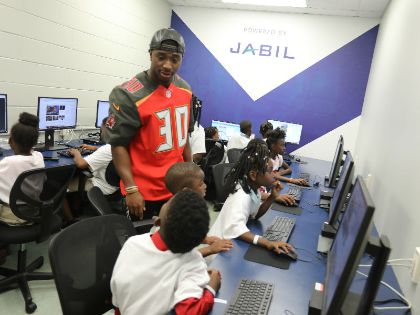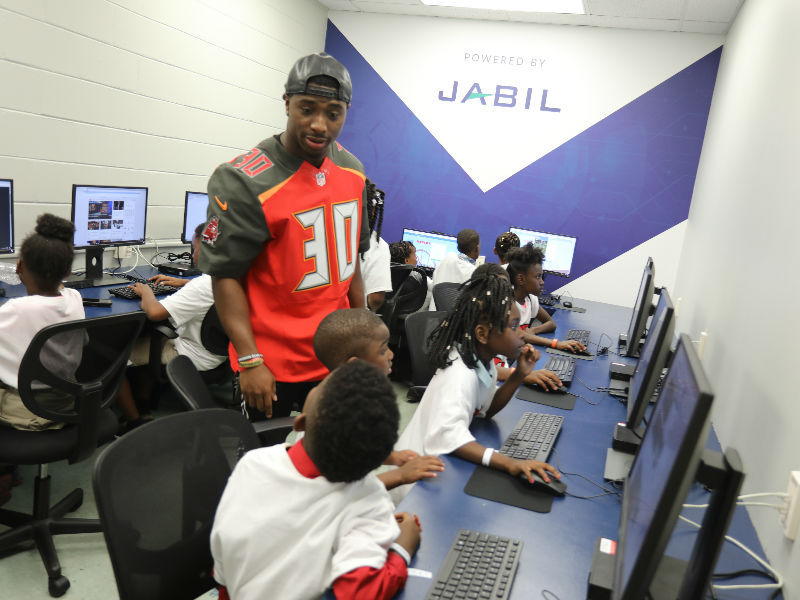 Everything came together on May 7, 2018. The event ignited the volunteer might of Jabil and the Tampa Bay Buccaneers as volunteers came poised to make a difference by completing service projects aimed at revitalizing the Center.
"As I look out before you this morning, I don't know who works for which organization," said Beth Walters, Senior Vice President of Corporate Communications & Investor Relations, alluding to the wave of volunteers wearing identical shirts. "This is how it should be, coming together, united, to make a difference in our community."
Volunteers spent most of the day completing a variety of projects to help improve the aesthetic look and functionality of the Community Center and adjacent park. Activities included painting the building exterior and interior, creating a hydroponic garden, building tables and furniture, assembling gym equipment and building a brand-new computer lab.
"It was nice to work side-by-side with another organization who shares the same passion and values to make a difference in our community," Peter McDowall, Senior Manager Supply Chain.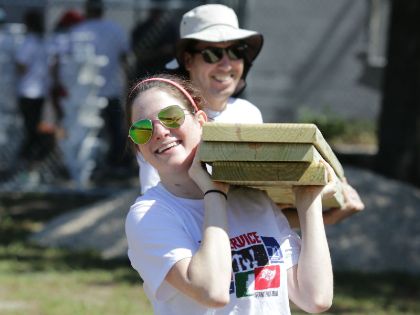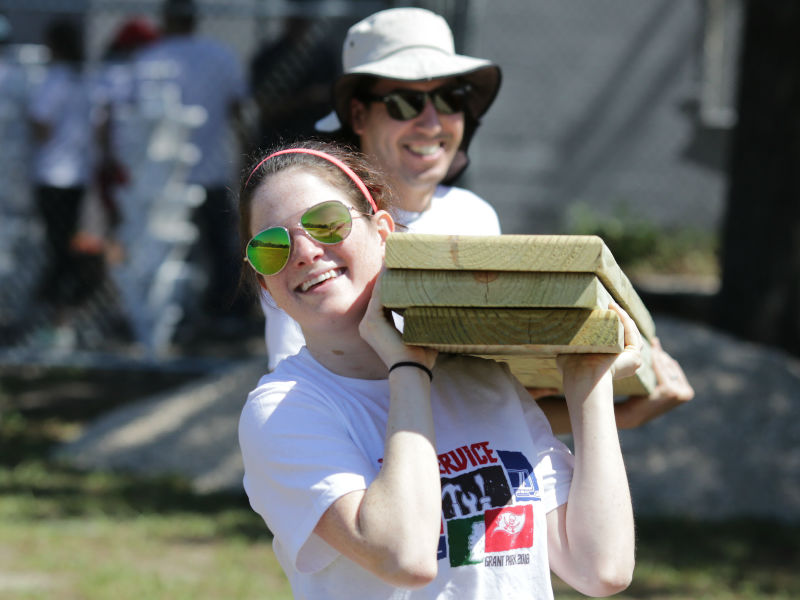 As project leaders crossed off the last remaining items on their to-do list, the anticipation started to build for the 60+ students outside the Community Center who were eagerly awaiting the first glimpse of the transformation.
As they entered the Center through a human tunnel and a wave of high fives, the smiles of excitement radiated from the children's faces as they bolted from room-to-room, discovering their new computer lab, teen room, exercise area and more.
"The entire day was so incredibly rewarding and heartfelt – to see the children that excited about the Community Center brought tears to my eyes," said Debra Richard, Inventory Analyst II. "I would do this again and again!"
Those sentiments were echoed across volunteers from both organizations who were excited about the synergy and collective good will generated from the Day of Service.
"It was an incredible experience! Knowing that my little bit of work and a few hours helped those children, just makes my heart sing," said John Briggs, Site IT Manager. "I think everyone should participate at least once."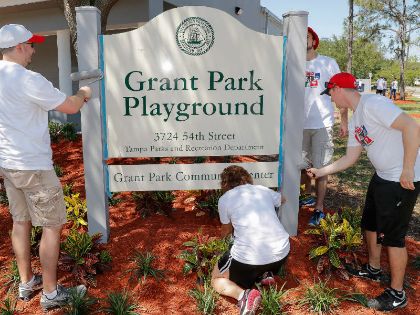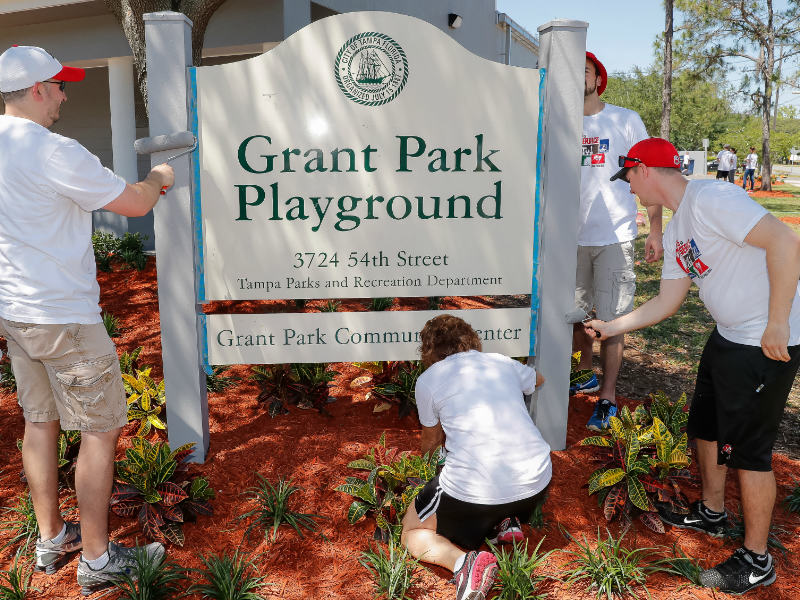 The impact of the Day of Service was felt immediately by those who rely on the Community Center the most. "Having you all come in and remodel our computer room is nothing short of a miracle. You all came in, saw the need, and went to work. Our after-school kids, teens and parents are all amazed by what you have done," said Sanatera Isaac, Grant Park Community Center Director. "It's almost hard to put into words how elated we are to have been chosen to be blessed in this way. Thank you!"
Over the next year, Grant Park will remain a focus area for Jabil Cares with the possible implementation of a STEM program and keeping the new computer lab stocked with the necessary supplies.
Jabil Cares, our community outreach and volunteerism platform, supports localized efforts around specific causes related to Education, Empowerment, and the Environment.