Gifts From the Heart At Jabil Vietnam
In December, Jabil Vietnam (JVN) organized a donation drive and a visit to Te Phan Orphanage to spread festive cheer to its residents.
Te Phan Orphanage is a shelter for orphaned children and the homeless elderly. Many of the children suffer from physical and intellectual disabilities and have either been abandoned or have family that is incapable of caring for them. The orphanage currently houses 66 children and 16 elderly, and relies solely on charitable donations to provide care for its residents. JVN has been supporting the orphanage since October 2015 as part of its CSR program.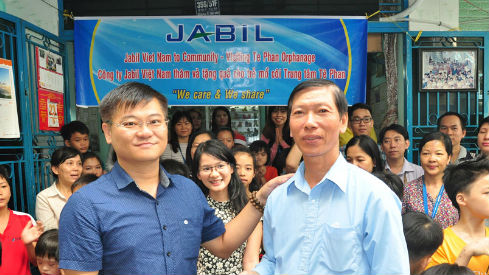 During the donation drive, a Christmas gifting tree which was decorated with notes containing information on the residents at the orphanage was set up, allowing employees the opportunity to personalize their gifts to the orphanage residents. JVN employees supported the donation drive wholeheartedly, contributing numerous gifts from the heart as well as raising a total of VND 10 million for the orphanage.
On December 22nd, 70 JVN volunteers visited the orphanage and delighted the residents with the gifts and their friendship. They spent time interacting with the children, who were happy and eager to receive the visitors.
Patrick Tan, Operations Manager, shared, "As this is the season for family reunions, we felt that it would be meaningful to lend our support and encouragement to the residents of Te Phan Orphanage. The generosity from our employees is heartwarming and I hope that our contributions have brought some joy to the residents."
Jabil Cares, our community outreach and volunteerism platform, supports localized efforts around specific causes related to Education Empowerment, and the Environment.