Electric Vehicles: The Race to Mass Adoption
Racing has been a part of the automotive culture since its invention, with the first one dating as early as 1867. From the adrenaline rush that takes off with the first throaty rev of the engines to the protesting screech as 40 3,300-pound machines drill down the asphalt at 200 miles-per-hour, there is something exhilarating and intoxicating about the whole white-knuckled experience.
Yet beyond the literal imagery of cars going around the track, the automotive industry has always been in a race. And this specific race on electric vehicle adoption will rely on unprecedented collaboration within an ever-evolving industry structure.
The largest automakers in the world have made public statements about their electrification plans. Ford, for example, is making an $11 billion investment in electric vehicles by 2022, looking to add 40 electrified vehicles to their portfolios. Sixteen of these cars are expected to be fully electric, while the rest will be plug-in hybrids. Nissan has set an even more ambitious goal: to sell 1 million electrified vehicles annually by 2022. Meanwhile, BMW says it will offer 25 electrified vehicles by 2025, at least 12 of which will be fully electric. All in all, automotive manufacturers are making substantial investments into electric vehicle adoption, promising that more than 100 different battery-powered cars will be on the market over the next few years.
In conjunction with all the investments and plans by automakers, consumer sentiment toward sustainability has been on the rise over the last decade. With carbon emissions, climate change and other environmental concerns, consumers are expecting brands to take a stand and provide "green" products. According to a November 2018 survey, 88 percent of consumers in the USA and UK want brands to help them be more environmentally friendly and ethical in their daily life.
As consumer sentiment seems to be on the rise for sustainability, that rise has been a slow one for electric vehicle adoption. Whereas only 7 percent of car shoppers said they were likely to consider purchasing an electric vehicle in 2010, 15 percent say they will likely own one in the next five years. Thirty-four percent affirmed they will likely adopt an electric car in the next decade, the study states. This may have to do with the expectation gap of what consumers want and their perception of what is available. A UCLA Anderson study states that 67 percent of consumers view green products as too expensive or lower quality than traditional ones.
The verdict? Expect a lot of activity in the next two to seven years to prepare for mass-market adoption of full-electric vehicles during the next 15-20 years. In fact, nearly six out of 10 believe that the mass adoption of full-electric vehicles will not hit until after 2030, according to Jabil's Managing Automotive Trends survey. There is a lot of work to be done. Download the survey report.
Four Big Factors Toward Electric Vehicle Adoption
The race to the mass adoption of full-electric vehicles is not a smooth ride. Responses from Jabil survey participants show that automakers are working through challenges in nearly every stage of the production process. They listed the following as their main factors: regulations, infrastructure, manufacturing and consumer acceptance.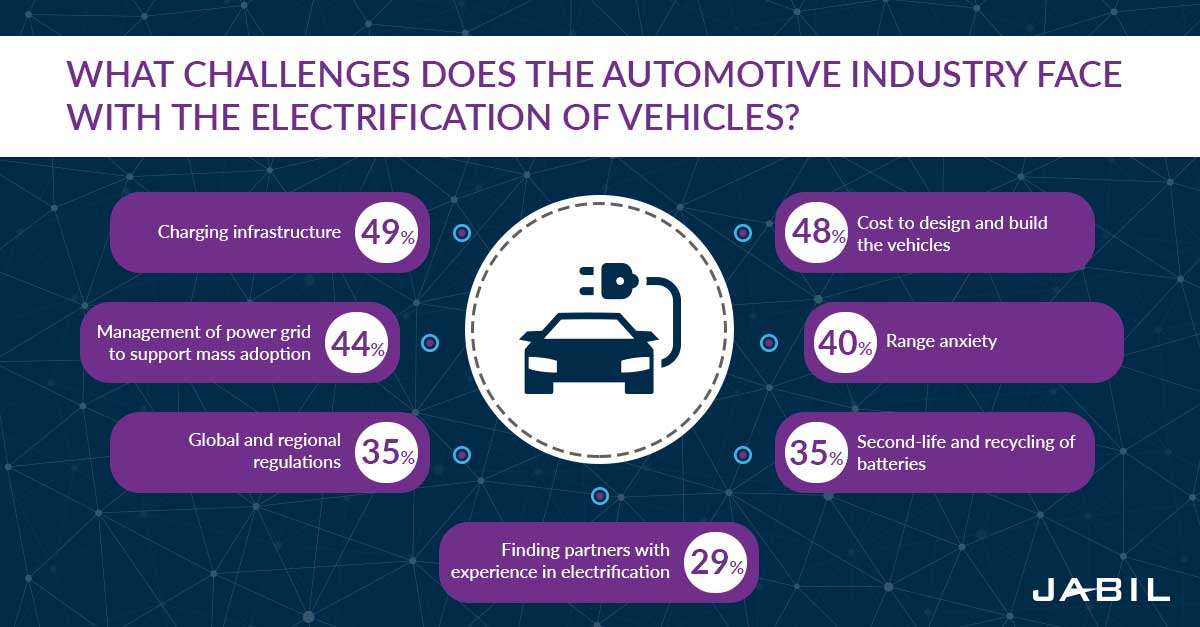 Regulations
Climate change, fuel efficiency and carbon emissions are ongoing concerns for the general population, and regulatory policies worldwide are driving the mandate for more eco-friendly, increasingly electrified electric vehicles as a result – think hybrids, plug-in hybrids and fully electric vehicles.
The European Union (EU), China and U.S. are some of the largest vehicle markets in the world, and they are leading the automotive industry with specific goals and requirements in the race towards more fuel-efficient vehicles. For example, the European Union has set out proposals for new CO2 targets for 2030, forcing manufacturers to cut average emissions by 30 percent from 2021 levels. Fines for not achieving these targets will be significant.
Outside the automotive industry, other transportation industries are adopting new vehicle types at a faster rate – possibly because they don't share the same "adoption" issues faced with consumer vehicles. Urban buses, for example, are the fastest growing segment of the electric vehicle market today, with a CAGR of more than 100 percent since 2013. In Europe, most urban buses are expected to use electric power by 2030, meeting the mandates set by local governments.
Infrastructure and Power Grid
One of the biggest obstacles of electric vehicle adoption is the charging infrastructure required to keep cars running. To keep these cars running, we need strategically positioned charging infrastructure in the places where people live and work. Jabil survey participants agree on the challenges faced in this arena. Nearly half say charging infrastructure work and another 44 percent say the management of power grid will be keys to the mass adoption of electric vehicles.
Different structural setups will be required to accommodate differing city layouts. While a densely populated place like New York City with high-rise residential buildings may need charging stations in garages and gas stations, a place like Tampa, Florida, where single-family home units are more common may require individual charging options in each house. There is no single solution that will work for every city or country.
For instance, when the first Tesla rolled out, users had two charging options: charge the electric vehicle at home, or don't charge and risk the battery running out. This changed rapidly as Tesla introduced global charging network to keep people on the road.
Naturally, as electric vehicle ownership increases, energy companies need to determine how the power grid can support enough stations. Progress has been made in this area - today it's common to see charging stations at office buildings and shopping malls – but many more will be needed to support mass electric vehicle adoption.
Subscribe to the Jabil Blog
Sign up for weekly updates on the latest trends, research and insight in tech, IoT and the supply chain.
Manufacturing and Outsourcing
The increasing launches of electric vehicles will, of course, have a knock-on effect through the automotive value chain. Accelerating speed-to-market of new enabling technology, and ensuring sufficient component supply to support manufacturing, are two core areas that are being looked at across the automotive supply base. Given it is impractical for a single company to invest in everything required to deliver electric vehicles to the mass market – we expect to see changes in design and manufacturing trends.
According to the Jabil survey, 65 percent of the automaker respondents say their organization currently owns a majority of the electrification design work, but only 40 percent plan to retain design ownership in-house over the next five years. Additionally, 58 percent say their organization currently owns the manufacturing of electrification technologies, with over a quarter of them looking for opportunities to outsource in the future.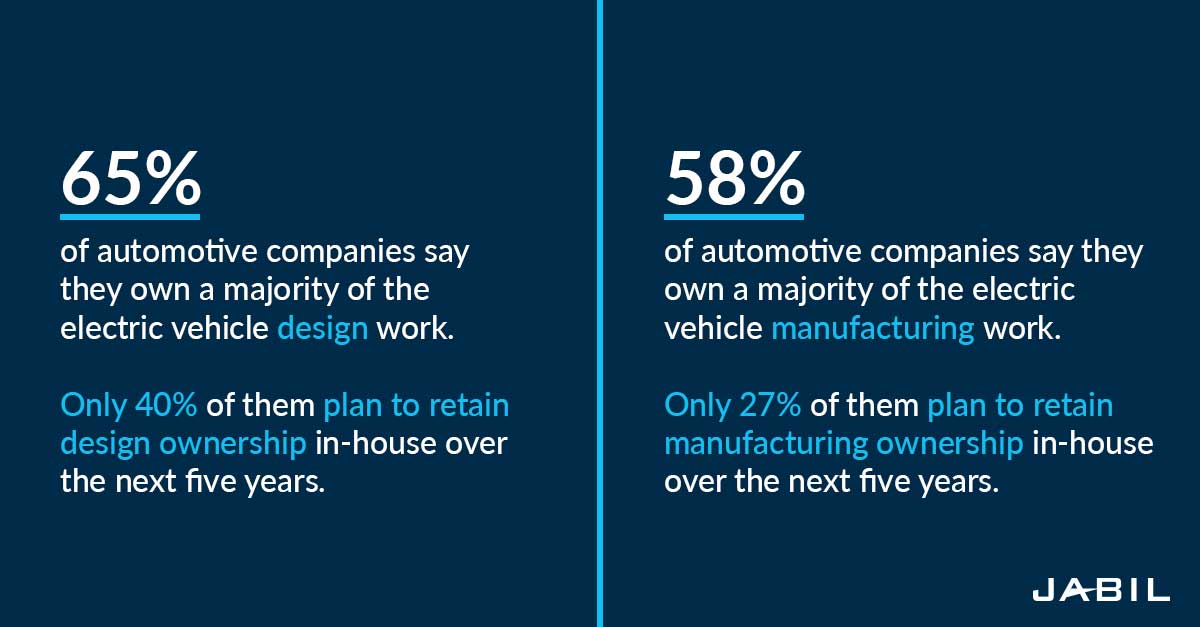 This suggests that automakers will increasingly outsource design and manufacturing operations to strategic partners bringing specialist knowledge, allowing the automakers to focus resources and financial investments on their core competencies.
Then, there is the supply chain required to facilitate the mass electric vehicle adoption. Today's standard combustion engine car has up to 3,000 capacitors; however, this number skyrockets to nearly 22,000 multi-layer ceramic capacitors (MLCCs) for a single electric car. As consumer electronics and the automotive industries battle for 'passive' components, it is likely that prices will increase. It will be essential for automakers to partner with suppliers who can manage supply networks required to bring new technology to market. Especially considering the ongoing passive component shortages, the increasing adoption of electrified vehicles may result in supply chain friction.
Consumer Acceptance
Finally, we look at the consumer acceptance of new vehicle types. Data shows that consumers are becoming more receptive to electric vehicles. But for mass-market adoption, electric vehicles must first provide a consistent experience at the same level as or better than ICE cars. This will happen when consumers feel confident about three things: cost, how far they can drive on a single charge, and the ability/speed with which to charge the vehicle.
As this article from Forbes points out – at first sight, many consumers believe that electric vehicles cost more than conventional cars, and for a buyer who is not typically thinking long-term, first impressions matter. However, the reality is that the cost of ownership for electric cars will be less than half of a gasoline-powered vehicle. The average cost to operate an electric vehicle in the US is $485 per year, towered by the average of $1,117 for a traditional car, according to the University of Michigan's Transportation Research Institute. Add to that the lack of maintenance costs for electric vehicles, and suddenly a higher vehicle purchase price does not sound so bad.
The cost of an electric vehicle may seem like an initial barrier, but there are other issues that need to be addressed to increase customer acceptance. Range anxiety is top of mind. As discussed earlier, greater charging infrastructure is required to increase confident that drivers won't run out of charge while they are out. The average range of an electric vehicle today is 194 miles compared to the range of traditional gasoline vehicles which is 418 miles. That gap is steadily closing - as improved battery technology will support new vehicles offering ranges over 300 miles.
The range isn't the only issue however. Charging speed is also a consideration. For mass-market adoption, the charging experience must be as close as possible to going to the gas station and filling up the tank. Basically – quick and easy. Again, the evolution in battery technology and charging systems are quickly overcoming these concerns. Multiple types/levels of charging are available, with the fastest delivering 60 to 80 miles of range in 20 minutes of charging.
According to a study by FullyCharged, a massive 88 percent of consumers who own an electric vehicle would not return to ICE-powered cars. This means that most consumers who make the transition to electric vehicles end up loving their experience. Then, the question is, are we doing enough to educate consumers on the realities and benefits of owning an electric car? When the industry starts doing a better job of that, we'll be in a much better place.
This is an age of opportunity for the automotive industry. While there are mass adoption challenges to overcome, the power of connected, autonomous, shared and electrified vehicles bring an undeniable potential to transform the world. It will be just a matter of time until consumers first choice of vehicle has an electrified powertrain." Yet it is important to remember that no manufacturer or provider can do this alone. This is a race that requires collaboration and partnership.
Download the Managing Automotive Technology Trends Survey Report
Insights from 126 automotive OE decision-makers on technology adoption, opportunities and challenges.