What is the current state of 3D printing?
Download the 2021 3D Printing Technology Trends survey report.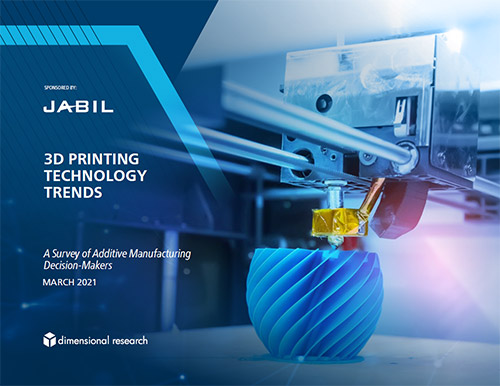 Just two years ago, 3D printing was set to transform manufacturing. Today, we're seeing steady growth in adoption of the technology and its use to solve design and manufacturing challenges. The popularity and applications of additive manufacturing have continued to rise. But there are still challenges to overcome.
How are companies investing in additive manufacturing? What opportunities and challenges have come along with the adoption of 3D printing? How has the focus on production parts evolved? How are companies approaching outsourcing their 3D printing capabilities?
By conducting original research since 2017 and again in 2019, we've gained unique insight into how attitudes toward 3D printing have evolved over the years. This 2021 report is based on a survey of more than 300 decision makers.
What's included?
Key and detailed findings from the 3D Printing Technology Trends survey

Trend analysis on the biggest changes from the 2017, 2019 and 2021 surveys

How companies are investing in, adopting and utilizing 3D printing

The biggest challenges companies face with 3D printing

The current state of additive manufacturing materials

Outsourcing trends with 3D printing capabilities