Can Open RAN Enable Mass Adoption of 5G?
At first glance, the concept of 5G might simply seem like another evolution of the technology that has given the world ubiquitous 3G and 4G connectivity. But thanks to capabilities like an open radio access network, or Open RAN, there's much more to it than meets the eye.
5G presents an entirely new set of opportunities in telecommunications. This includes new and advanced capabilities for end users and new revenue streams for traditional telecommunications companies such as cellular service providers (CSPs) and original equipment manufacturers (OEMs). For enterprises, 5G can potentially provide both. In any case, its game-changing potential — higher data rates and system capacity, lower latency and an ability for a massive number of devices to connect at once — is a major reason why the Manufacturing Institute calls 5G "a technological paradigm shift."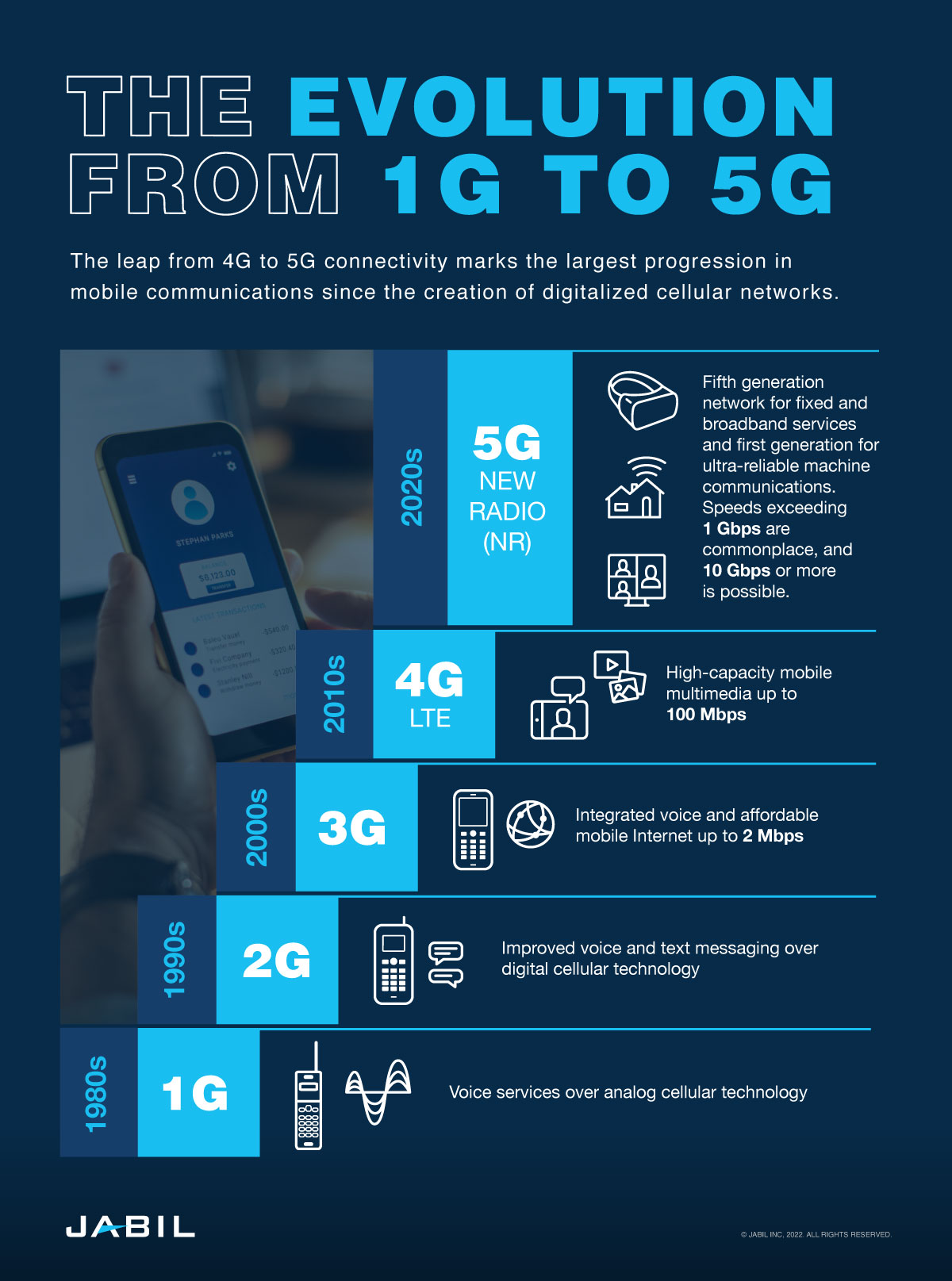 However, the wireless industry in general, and 5G more specifically, continues to face various challenges. Deployment and rollout of 5G networks has taken longer than originally anticipated, and availability of certain features remain unclear. For years now, the lack of diversity of network gear suppliers has been an issue, and deployment and operations costs have likely increased as a result.
Open RAN is one strategy to help unleash the capabilities in 5G's expansive "toolbox." The open network enables cellular service providers to deploy these new tools at reduced costs, with increased operational efficiency and flexibility, and with the potential of a larger supplier ecosystem for their adopters.
In a survey of 193 telecommunications stakeholders fielded by Jabil and SIS International Research in late 2021 about 5G challenges and opportunities, the vast majority of respondents (91%) agreed that Open RAN will create new 5G deployment and purchasing model opportunities. Further, 87% of respondents said businesses, who are likely to be more interested in these particular benefits than individual consumers, are leading the charge on 5G adoption overall. With this level of opportunity and engagement, it is clear that Open RAN will play a key role in 5G rollout and adoption.
The Role of Open RAN in 5G Adoption
There has historically been little interoperability between RAN equipment from different OEMs. If a network operator wanted to pursue a feature set or a roadmap offered by another OEM, the operator would need to swap out or replace an entire RAN, at least in the target region or geographical area. There was a time when this was the norm, and it did provide profitability for the OEMs, which to some extent was reinvested into the wireless ecosystem.
However, as the number of global wireless OEMs has steadily decreased over time, the competition and diversity of supply have similarly declined. In addition, the monolithic nature of network architectures up to and including 4G, where interoperability was highly limited, has made it very difficult for newer entrants into wireless to gain much of a foothold.
Given the desire of network operators and enterprises to improve operational efficiency and unlock innovations enabled by 5G, the O-RAN Alliance was created to unify the efforts of network operators and vendors to transform the industry toward truly open, intelligent, virtualized and fully interoperable RAN.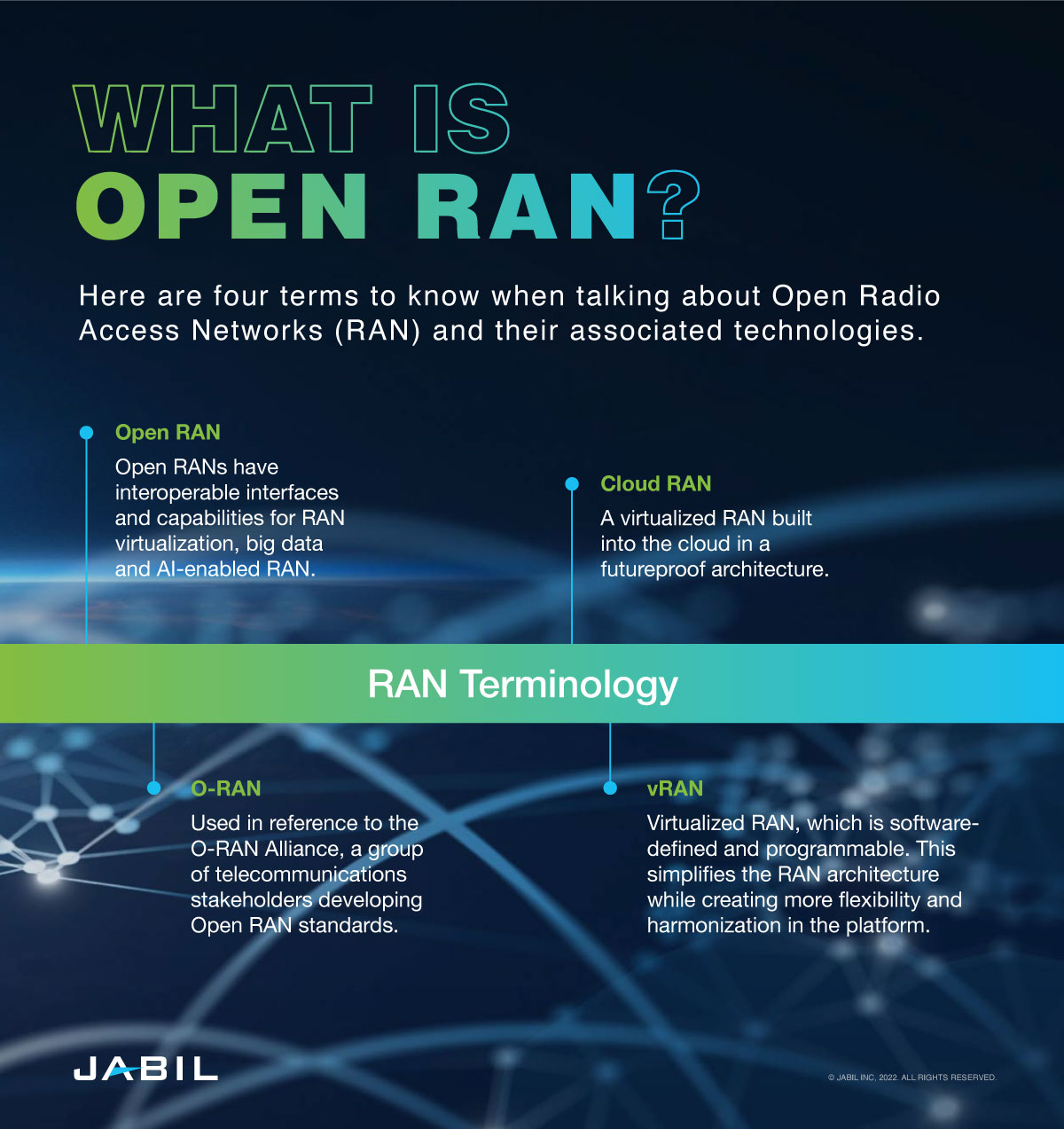 The Open RAN architecture specifies a standardized design of the components in a radio access network: the radio unit (RU), distributed unit (DU) and centralized unit (CU). This standardized and open architecture enables the entry of new players, which were previously excluded from competing for business with cellular service providers. A broader ecosystem will help increase competition and supply chain resilience while reducing costs in the long term.
In addition to generating competition, Open RAN expands the ecosystem for new vendors to develop interfaces, features and capabilities that will help drive adoption, create new opportunities for revenue and fuel innovation.
Across the telecommunications industry, Open RAN has become a mainstream option for proliferating 5G access. More than half of respondents (55%) in Jabil's 5G survey said they are seriously considering an Open RAN strategy for their companies. Slightly less than a quarter (22%) already have a strategy in place. They are also confident that Open RAN is a near-term viable solution; 72% said it is ready for deployment or will be ready within the next two years.
As with any new technology, Open RAN presents challenges which service providers, equipment manufacturers and other players in the telecom industry must navigate before networks are truly ready for widespread adoption. The big question for companies in the wireless industry is when Open RAN will reach the tipping point, where the challenges are clearly outweighed by the opportunities.
The Key Risks and Benefits of Open RAN Deployment
While 5G technology and Open RAN promise to revolutionize telecommunications and the role of ecosystem partners, there are risks associated with Open RAN adoption. However, most industry leaders are focused on reaping the rewards of successful deployment. Here are several key risk factors to consider and some of the key benefits of successful Open RAN adoption.
Three Key Risk Factors of Deploying Open RAN
1. Integration Cost and Complexity
The most immediate risk for operators when it comes to Open RAN is the initial cost and complexity of deploying this new architecture. There are several proof points in this process which are still yet to be confirmed.
Teams working on Open RAN have made quite good progress in specifying the interfaces between the DU and RU. However, the specifications are complex and highly feature-rich. A first step for a CSP deploying Open RAN would be to clarify the 5G use cases to be supported by the open network and ensure that their equipment providers support the required feature set.
The Open RAN ecosystem has also become more sophisticated in enumerating the testing required for interoperability between equipment vendors, as well as for compliance to the 5G feature set. However, given that part of Open RAN's value proposition is the use of numerous equipment providers, the testing ecosystem will need to address the complexity of "mix-and-match" across a broad vendor base.
Finally, as RANs are deployed using hardware and software from multiple vendors, operators will need to consider who will perform the initial commissioning of these networks and whether the operations system is robust and capable of handling a multivendor environment. There is potential for a shift in cost burden in this area depending on how much commissioning and operation responsibility is taken on by the CSP, the equipment vendors or potentially a network integrator.
There are also regional factors that may affect the initial deployment and integration costs. For example the U.K. is putting a massive effort behind Open RAN deployment, launching industry guidelines to help reach the goal of 35% of the nation's mobile network traffic passing through an open network by 2035. Costs will go down as the ecosystem reaches scale, and those who deploy successfully at the front end will become industry leaders in 5G technology, but the initial deployment expense is still a concern for providers.
2. Performance Variability and the Need for Network Performance Parity
One of the main issues with deployment of the Open RAN architecture is the potential for variability in network performance and a decrease in network key performance indicators (KPIs). There may also be some question about how Open RANs will perform in complex handover and mobility scenarios and in environments with a large number of user equipment (UE) devices.
Additionally, traditional RAN systems, built monolithically with equipment from a single vendor, may be highly optimized for a service provider's specific purpose. Since the interfaces of these systems are closed, such optimizations might not be immediately apparent, and could pose a challenge to performance in early Open RAN network deployments.
Specifications developed by the O-RAN Alliance are intended to standardize these performance expectations, but as with all interoperability, many cellular service providers are still in "wait and see" mode until more Open RANs go live. In fact, it may actually turn out to be easier for greenfield operators who are providing new cellular service to launch Open RAN than incumbent operators, since these new operators don't have existing RAN infrastructure that must be changed, updated or integrated into an Open RAN infrastructure.
There is broad understanding within the telecommunications industry that Open RAN deployment could be bumpy. More than three-quarters (79%) of respondents in Jabil's 5G survey expect to see variability in network performance (varying call quality, dropped calls, throughput issues) occasionally or often when first rolling out an Open RAN network.
Still, they view the potential short-term hurdles as worthwhile for Open RAN's expected long-term payoffs. Nearly two-thirds (64%) of respondents said they would be willing to accept a higher incidence rate in exchange for the financial and operational benefits of Open RAN.
3. Limited Proof Points Related to Real-Time Processing and Interoperability
Part of the promise of 5G is real-time processing, fast speeds and low latency. However, operators will seek trial data to ensure that Open RAN can support these and other key 5G capabilities.
The challenge here is that the first true, full-scale Open RANs on which operators can see these capabilities in the real world are just coming online. Rakuten Symphony has launched a virtualized Open RAN in Japan, but so far, the network has relied mainly on a select ecosystem of tools and hardware.
In the U.S., DISH and Samsung partnered to roll out the country's first virtualized Open RAN network to more than 120 cities, covering more than a fifth of the U.S. population. Again, Samsung is providing the radio units, virtualization solutions and even the smartphones during the deployment period, providing little evidence toward the interoperability of hardware and software across different vendors — one of Open RAN's main selling points.
Open RAN's ability to deliver real-time processing has also not truly been proven in a real-world setting. There are some concerns in the industry that the open compute platforms employed by many Open RAN suppliers may not exhibit the same performance levels as the purpose-built hardware often developed by traditional wireless OEMs. While providers like Vodafone in Europe and Tigo in South America are actively deploying Open RAN, at least part of their focus has been to expand 4G access with these open networks. Thus, it is still unclear how effectively Open RAN can support the low-latency, high-speed processing promised by 5G.
Testing 5G's next-generation radios prior to deployment has always been an important aspect of making the technology a reality, and it will be crucial to ensuring Open RAN lives up to its promise.
Three Key Benefits of Open RAN Deployment
Despite some of the issues outlined above, Open RAN still presents substantial opportunity to accelerate and enhance the true potential of 5G.
1. Reducing Costs
One of the most quantifiable benefits of Open RAN technology is the reduction of both capital and operating expenditures. The disaggregation of radio access networks will create competition among vendors that will drive down equipment costs and thus capital expenditures (CAPEX).
We are already seeing substantial cost savings in RU products within the Open RAN ecosystem. For example, Meta is leading the Evenstar program, with the goal to expand broadband access globally. Through this program, Open RAN RUs will be offered at a target cost of around $1,000, substantially lower than today's price points. While this savings will not drop completely to a CSP's bottom line, given the volumes of RUs in a typical network, there is no doubt about the CAPEX savings in an Open RAN model.
Opening of the RAN interfaces not only powers virtualization of the RAN, but it also allows multiple players to enter the RAN operations space. This will enable more customization of operations systems than the incumbent OEMs can currently support, providing substantial opportunity for network-specific operational cost savings.
Indeed, from Jabil's 5G survey, all participants who already have an Open RAN strategy in place said they expect that strategy will reduce both CAPEX and OPEX; overall, 81% of respondents expect an Open RAN strategy will reduce CAPEX, while 85% believe it would do the same for OPEX.
2. Addressing Supply Chain Challenges
As with most industries, the telecommunications sector is facing supply chain risk from nearly every corner. Pandemic instabilities have created chip shortages, which continue to threaten the production of radios and the 5G-enabled smartphones that are critical for successful deployment. These shortages have been exacerbated by geopolitical disruptions. The Russian invasion of Ukraine threatens key sources of raw materials for semiconductors, and the rising tensions between China and Taiwan could also pose problems for the production of the world's limited chip supply.
The current wireless ecosystem is dominated by a few incumbent OEMs, so when a disruption in the supply chain occurs, it can very quickly cause a significant impact to the rest of the telecommunications industry. The opening of the radio access network architecture will provide operators with an increased number and diversity of vendors, which helps lower the risks of supply shortages, delivery delays and price increases as the result of being dependent on one vendor.
Beyond traditional supply chain diversity, the Open RAN system architecture enables network virtualization, which provides a dimension of supply robustness not previously possible. Since networking and data processing functions can now be done via software and on standard server hardware, operators are no longer locked into a vendor's purpose-built hardware.
3. Expanding 5G's Potential Use Cases
The lower latency and higher bandwidth that 5G and edge computing enable will help bring innovative, disruptive use cases like augmented reality (AR) and virtual reality (VR) to scale. Industrial IoT will also be able to reach its full potential with the help of updated network and access capabilities.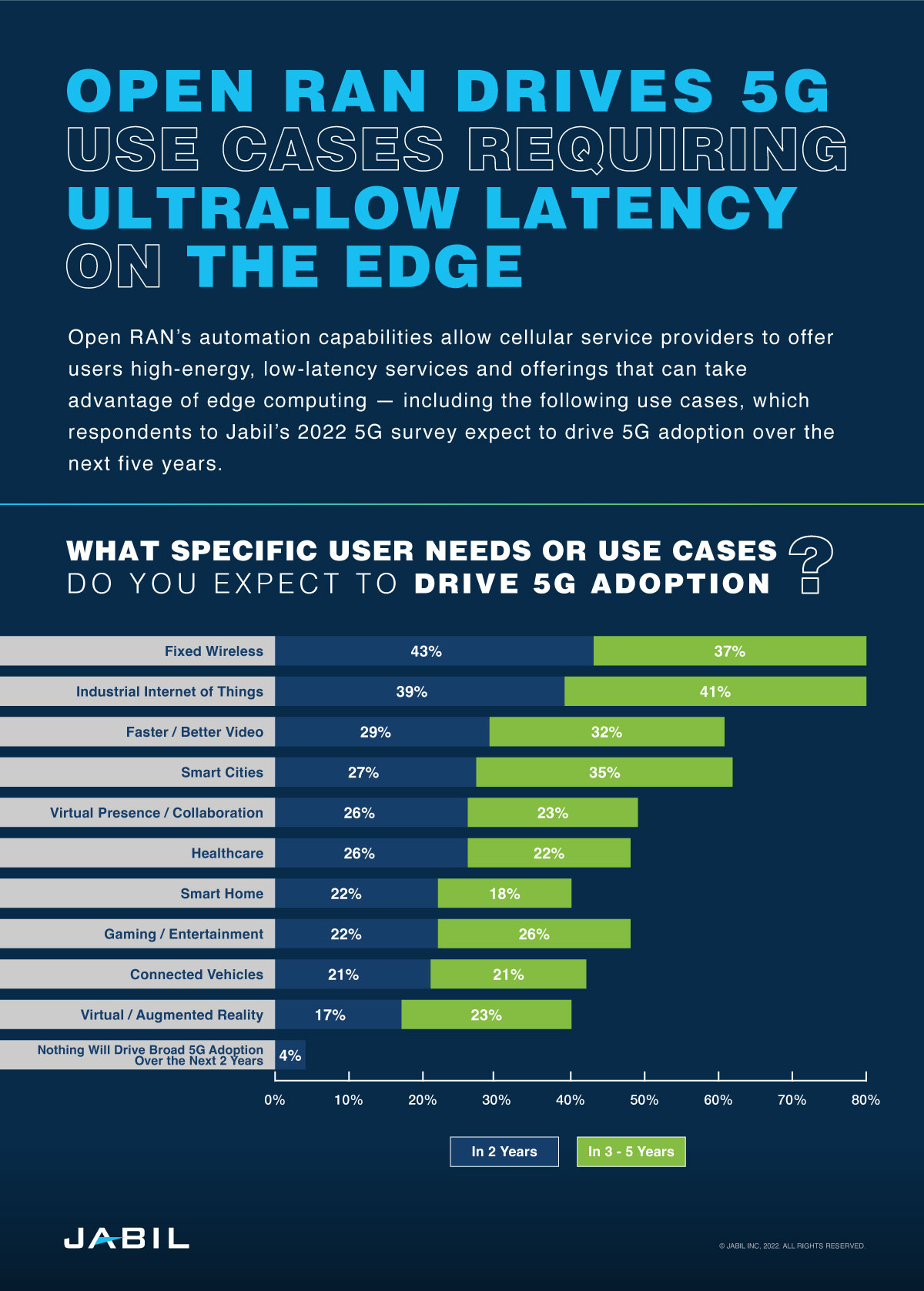 As discussed, Open RAN broadens the number of players in the carrier-grade and enterprise wireless space. With a larger and more robust ecosystem, implementation of these new and exciting use cases, as well as the broad and complex underlying 5G feature set, will accelerate. Indeed, according to Ericsson:
"Open platforms provide access to a broader base of innovation than traditional platforms and so accelerate progress, as demonstrated in enterprise open-source communities. Smaller operators, in particular, may enhance their ability to influence requirements and specifications through open alliances."
The cloud and software-based nature of Open RAN will also enable faster verification and deployment of new 5G use cases. In contrast, innovation of closed networks is gated and throttled by the timing and prioritization of incumbent suppliers. An open and competitive ecosystem will not be limited by such constraints.
Open RAN is also driving innovation on the customer side. We are starting to see substantial participation from smaller, newer operators, as well as hyperscalers and major technology companies. What new and interesting ways might these players push Open RAN forward?
Hyperscalers' Role in the Adoption and Development of Open RAN
Hyperscalers have entered the front lines of 5G innovation, partnering with some of the biggest telecommunications service providers to harness the potential of 5G. At this point, there is little question that these companies will play a significant role in the mass adoption of 5G. Almost all respondents (93%) in Jabil's survey believe 5G will foster partnerships between service providers and software or web services companies.
Hyperscalers are already partnering with traditional cellular service providers to deploy elements of the 5G toolbox. For example, Microsoft and AT&T are collaborating on improving the cloud for telcos. Meanwhile AWS and Verizon have launched a mobile edge computing platform on which other developers can build next-generation experiences for 5G devices. Because the processing is done on the edge, close to the end user, the platform can enable services like near real-time analytics, immersive streaming and automation for manufacturing.
There are numerous benefits of hyperscalers collaborating with established providers and with each other. Hyperscalers will absolutely add scale to the 5G ecosystem, and their best practices in the cloud space will certainly add value and stability to 5G's virtual network architecture. These new players also bring ubiquitous and innovative access to end users, which can be highly complementary to traditional wireless access.
However, what's less clear at this point is how hyperscalers will be integrated into providers' growing Open RAN strategies. Less than half (44%) of Jabil's survey respondents believe hyperscalers (like Amazon, Microsoft, Alibaba and Google) fit into their Open RAN strategy. Interestingly, companies that have already implemented an Open RAN strategy have a clearer vision of what big tech has to offer. Two-thirds (67%) of companies that have already implemented an Open RAN strategy do believe hyperscalers have a place in that plan.
There is no doubt that expansion of the wireless ecosystem enabled by Open RAN will fuel innovation. However, hyperscalers' unique access to end users, coupled with the powerful capabilities of 5G, will certainly provide new and disruptive use cases. It seems quite likely to me that a hyperscaler could be the one to identify, if not fully develop, the "killer app" that will ultimately make 5G a must-have for both businesses and the average end user.
Is Open RAN Key to the Future of 5G?
The shift to open architecture can bring challenges for operators, vendors, and customers, but it can also bring benefits. The key is that these challenges can be effectively managed, and this will unleash the benefits of cost reduction, supply chain diversity, and increased innovation.
Because the future of 5G and Open RAN — what it looks like, how it will function — has yet to fully emerge, there is plenty of opportunity for collaboration among industries and room to grow the network's possibilities. For most of us in telecommunications, though, our eye is on ensuring Open RAN helps us get closer to our end goal: Making 5G a widespread, transformative technology.
Open RAN is not a 6G technology; we won't have to wait until the next generation of mobile connectivity. It is here, it is now, and it will help to fuel the adoption of 5G.
Download the 5G Technology Trends Survey Report
Insights from 193 telecommunications decision-makers on 5G adoption, predictions, opportunities and challenges.