Additive Manufacturing Network
A Global Additive Network Built for Speed
Local, Regional and Global
The Jabil Additive Network consists of a global footprint of 3D printers and additive manufacturing capabilities. With more than 100 manufacturing locations in 30 countries, we're connecting additive manufacturing production processes into a single printer-agnostic platform across multiple sites and users.
With the Jabil Additive Network, products can be designed in one geographic location then produced and distributed in another to best serve the end customers' requirements. The system can secure a design file to ensure products are consistent and certified when produced in multiple geographies, and with applicable quality management systems. Build for speed, the network has been integrated throughout Jabil's manufacturing plants worldwide, ensure customers get to market faster. We're local, regional and global.
3D Printing Technology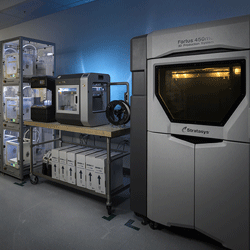 The outlook for 3D printing is exceptional. Nearly every report published in the last decade explore the potential of additive manufacturing and how it can help transform parts of the manufacturing process. Indeed, there are real benefits and business outcomes across every industry. For example, at Jabil Additive's Auburn Hills site, using 3D printing for jigs and fixtures has led to a time reduction of 80% (from months to weeks) and up to 35% reduction in tooling costs.
Learn More